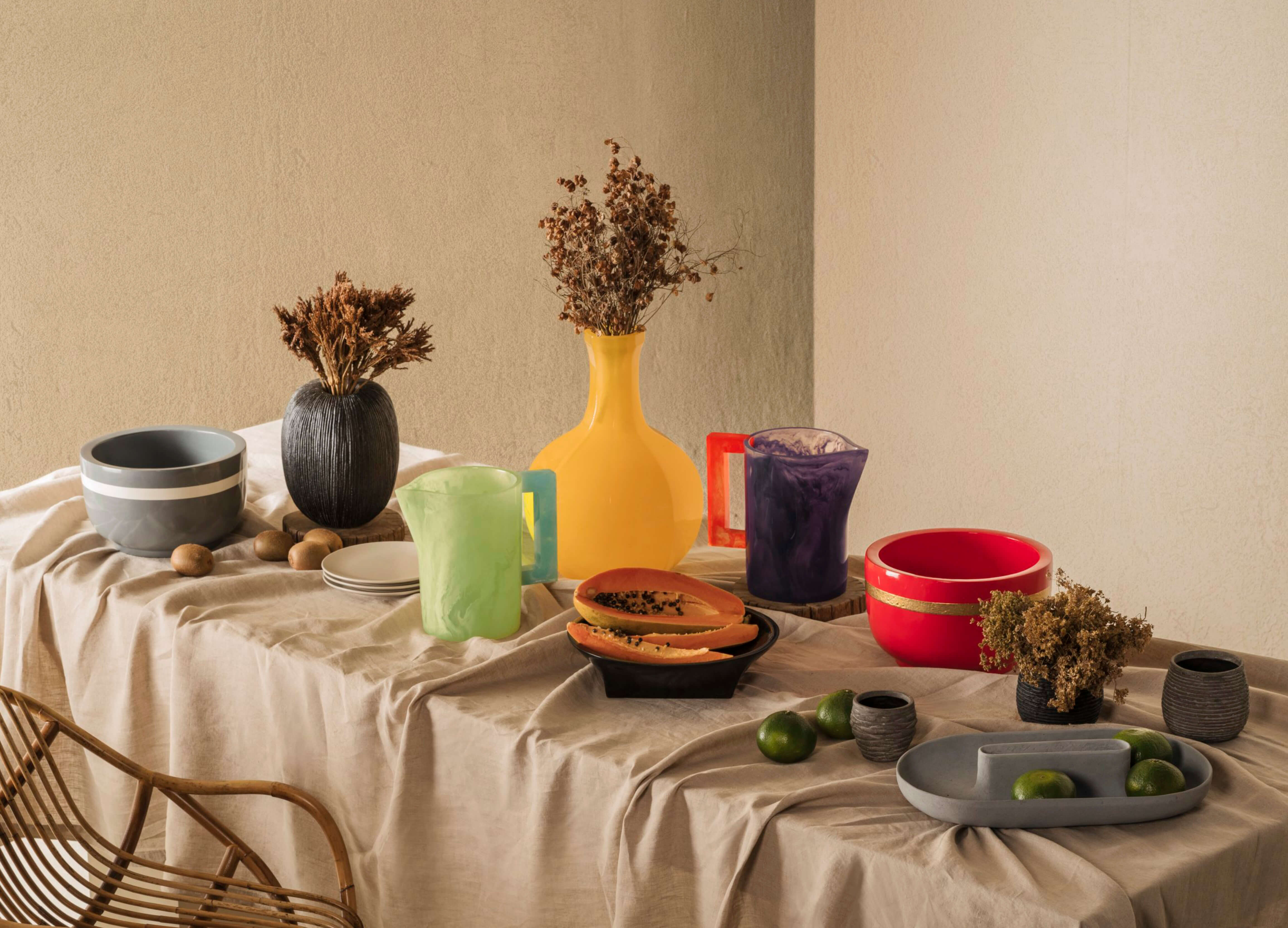 Setting Your Table's Mood
TouchPoint's roundup of tips and tidbits on how to make your at-home meals festive and bright by way of fanciful tablescapes
by Patti Sunio

The holidays are near, and, having celebrated many milestones at home by now, hosting dinners and intimate gatherings may have well become a new skill—and tradition—we've all acquired and come to embrace. Other than picking up family heirloom recipes or, for some, bookmarking the go-to restaurants to order food that are as good as home-cooked meals, we've also learned to create a mood and set the ambience at home, through inspiring tablescapes and thoughtful decor.
"A meal without a well-thought-of table setting is like watching a Broadway play without the magical backdrop," begins Kyla Olives-Laurel, photographer and creative director of The Olive Tree, who are known makers of quality linens and other accessories for the home, made special by their use of interesting textiles and colorful digital prints. "The tablescape is the first thing your guests will experience. When the senses are heightened and stimulated from the very beginning, and you pair that with good food and good music, then you're golden. Expect them to show up again soon!" she says.
"Table setting, for me, is a love language for your family and friends," adds fashion designer Gabbie Sarenas, whose eponymous label has become known for its "statement wear" and unique creations using piña fabric and embroidery. "I want to be able to bring comfort and complement the beautiful food that's being served with a well-styled table setting. After all, it's a place of conversation for any occasion—big or small."
Looking for new ways to turn your hosting knowhow up a notch? Olives-Laurel and Sarenas share some tips and tricks, plus, find our curation of key tableware and decor from the FAME+ catalogue.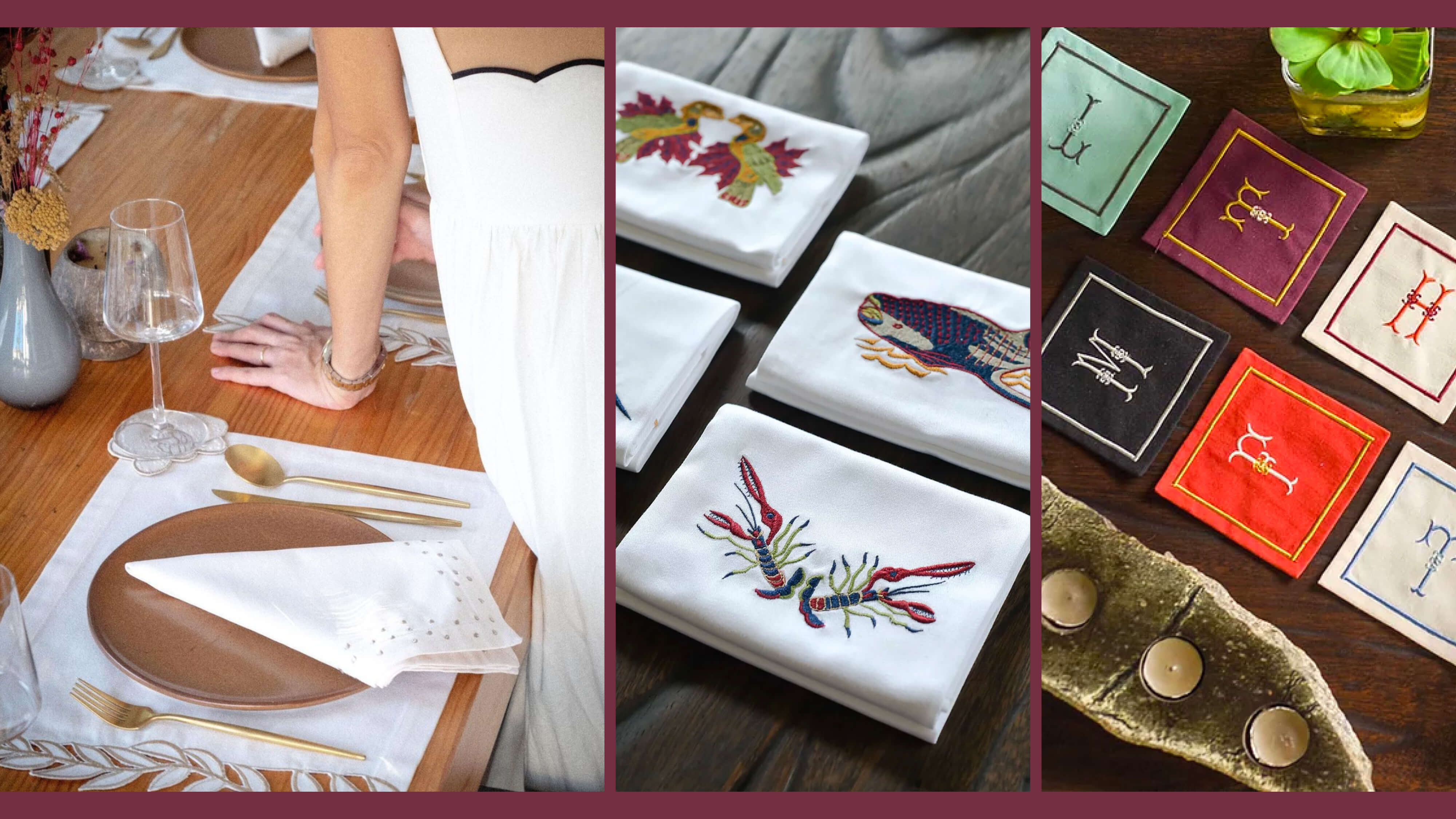 Kyla Olives-Laurel is a photographer and the creative director of The Olive Tree. In photo are some of the brands' dining essentials: napkins, coasters, and hand towels decked in fun prints and embroidery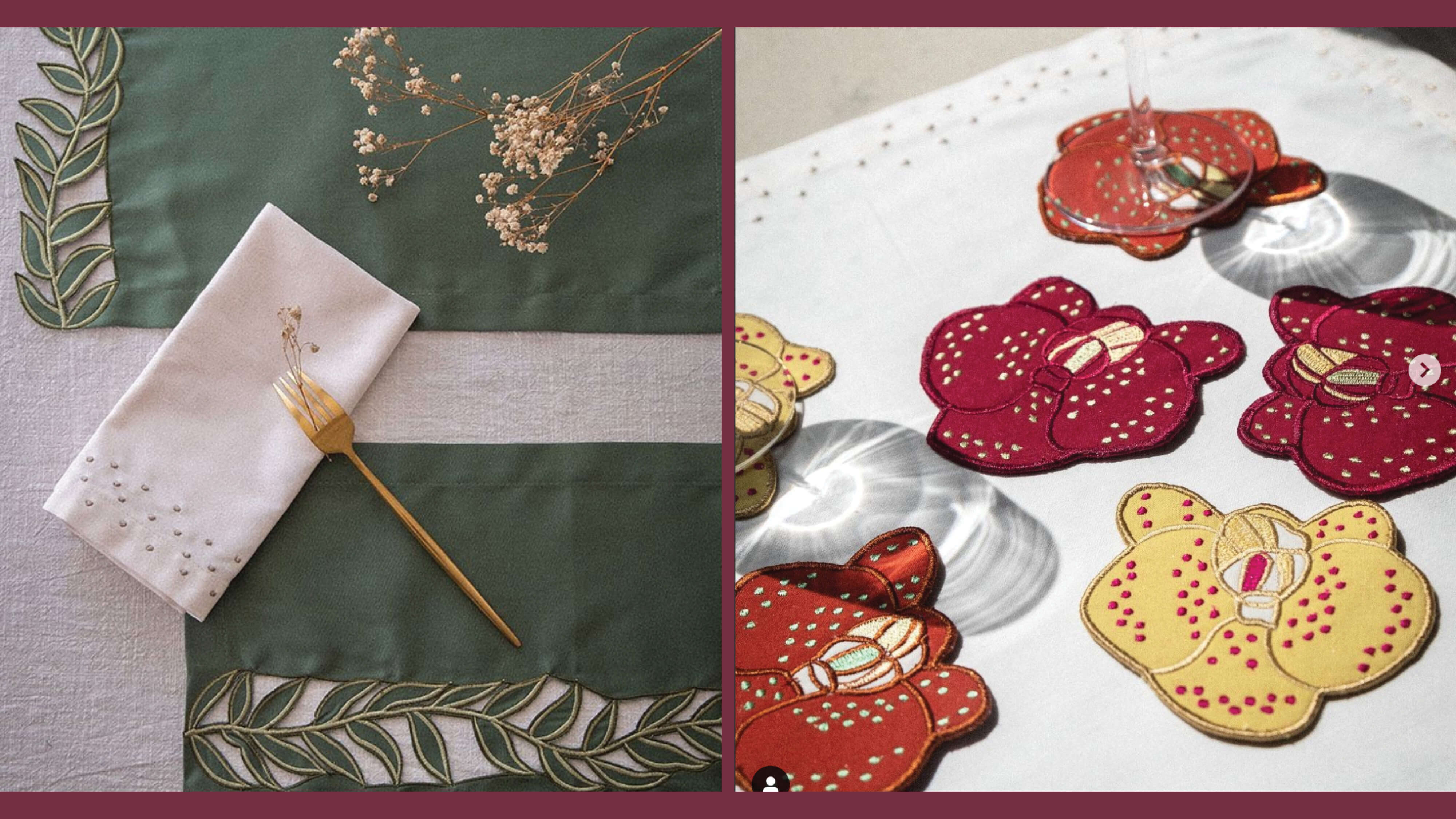 The Olive Tree has just recently released its #AnikaTheOliveTree collaboration with FAME+ exhibitor Anika, featuring a collection of chic table linens in hues of neutral greens and creams, just in time for the holidays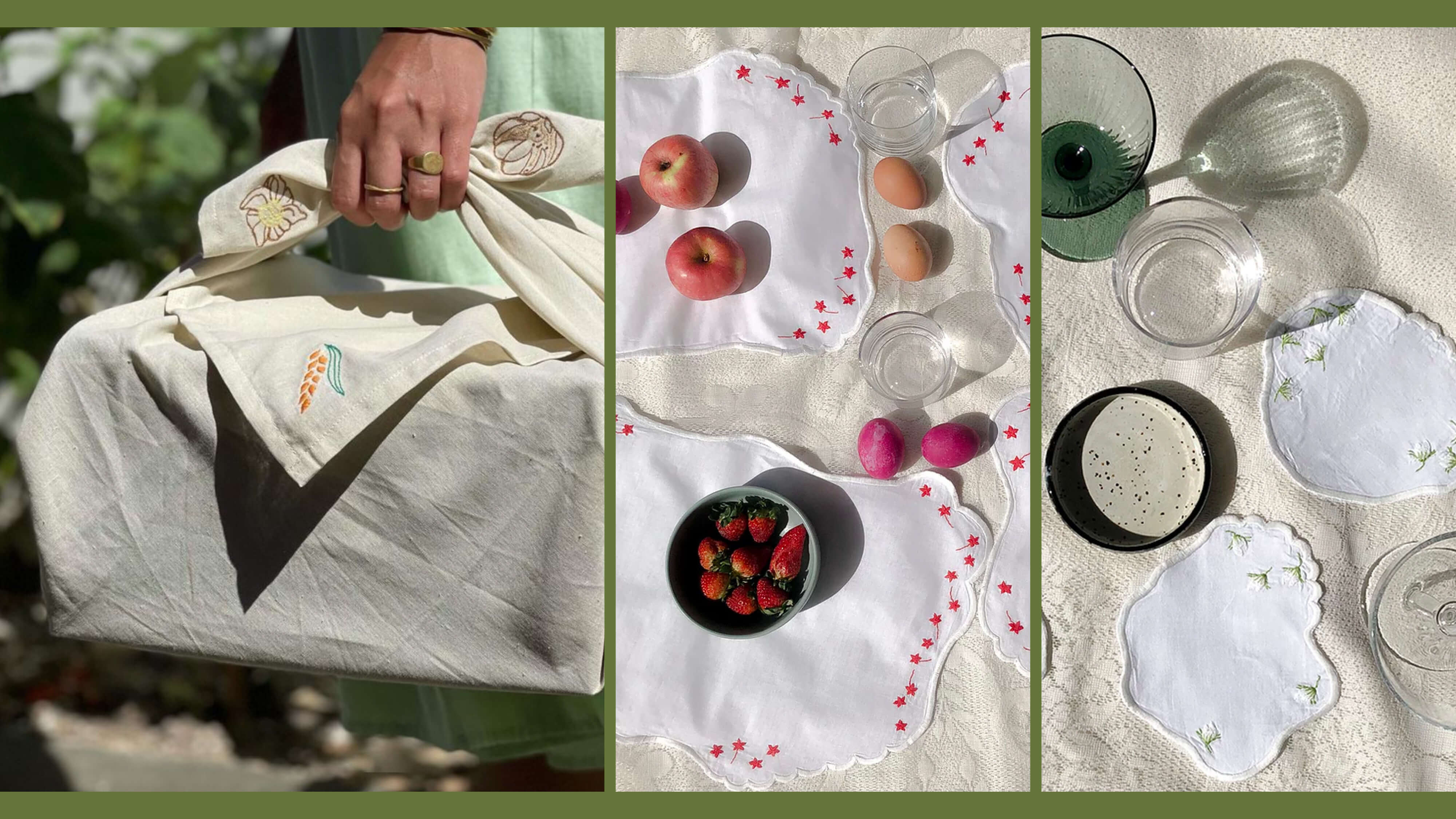 From her contemporary Filipinianas and barongs, Gabbie Sarenas has recently crafted pieces for the home. Here are loaf covers, table linens, placemats, and coasters that exhibit the same quirky charm and fanciful feel as her wearable pieces

Invest in quality linen and wares.
"When it comes to tablescaping, the most important advice I can give is to choose the materials of your pieces wisely," reiterates Olives-Laurel. "Never settle for polyester napkins since you and your guests will be wiping these on your faces. Plus, they won't last very long. Always go for pure cotton, cotton blend, or linen, for that French countryside feel."
Olives-Laurel's must-haves include a good white table cloth and tablewares that can go from day-to-night. "Treat your linens (and wares) like clothing—the more interesting the story behind it, the happier you'll be 'wearing' them," she advises.
Add a touch of nature.
Whatever theme you're going for, according to Sarenas, "fresh flowers are a must!" One can't go wrong with fresh foliage, greenery, or colorful blooms. It's always pleasing to the eyes. Olives-Laurel adds, "Flowers and greenery bring life to the table. You don't need to overthink this part—you can just add florals and leaves from your garden."
Mix, match, or mismatch.
If you are inclined toward a specific color scheme, work around it and let your style and personality show in your tablescape. "I have a preference for a lot of white, some blues, and some hints of accent colors for placemats and coasters," shares Sarenas. "I lean towards hues of mustard, pistachio, Auvergne, and some shades of pink."
And while it works to keep a consistent color palette, it's good to remember that there's always a little room for play. "You don't have to limit yourself in terms of color and making sure that everything matches," points out Olives-Laurel. "Mismatched details can create a more interesting look. You don't want to seem like you tried too hard to set the table."
The thought is in the little details.
"Add details at the center of your table, such as flowers or greenery, trinkets from your travels, or even edible things, like fruits, candies, or pastries. Sky's the limit!" Olives-Laurel suggests. "Also, don't make your centerpieces too tall, you always want your guests to see each other."
Last but not least, make them feel at home.
It's always great to put in the extra effort (your guests will feel it, for sure!), but make sure not to overdo it, too. Keep it light and harmonious—you don't want it to look a little too polished, that you'll end up intimidating your guests. "For me, I don't necessarily have specific rules, but I prefer to keep it homey, charming, and natural. I prefer a family-style kind of setup, especially for intimate gatherings," says Sarenas. She prefers one-of-a-kind pieces, such as serving plates with a good old story behind it, which can be interesting conversation starters. "Handwritten menus and name cards are cute!" she adds.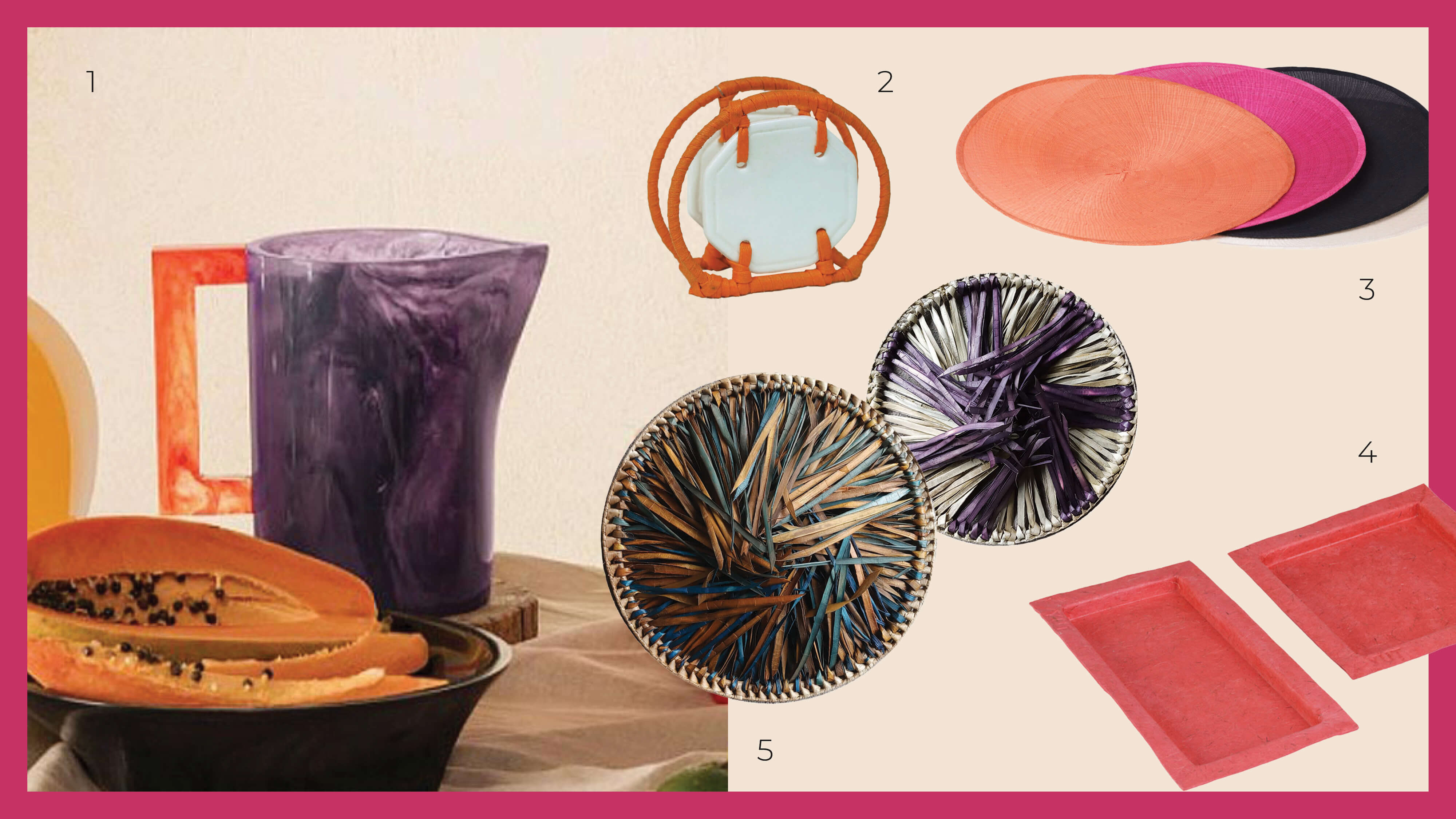 Go color-crazy. Here are decorative pieces that'll add pomp to your table setting, keeping the mood festive and bright
In photo: 1) Purple pitcher with orange handle. Pitcher (MARMORCAST®), NATURE'S LEGACY. 2) Orange napkin holder made of ceramic and wire. Marga Napkin / Letter Holder, ARTISANA. 3) Colorful buntal (straw) placemats. HW17-1107 ROUND BUNTAL PLACEMAT, ORIENT MEADOW. 4) Water-resistant abaca tray in red-orange. Tuy Tray, TUY ARTS AND DESIGNS. 5) Pandan plate charger with hints of purple. Reversed Fringe Plate Charger, ARTISANA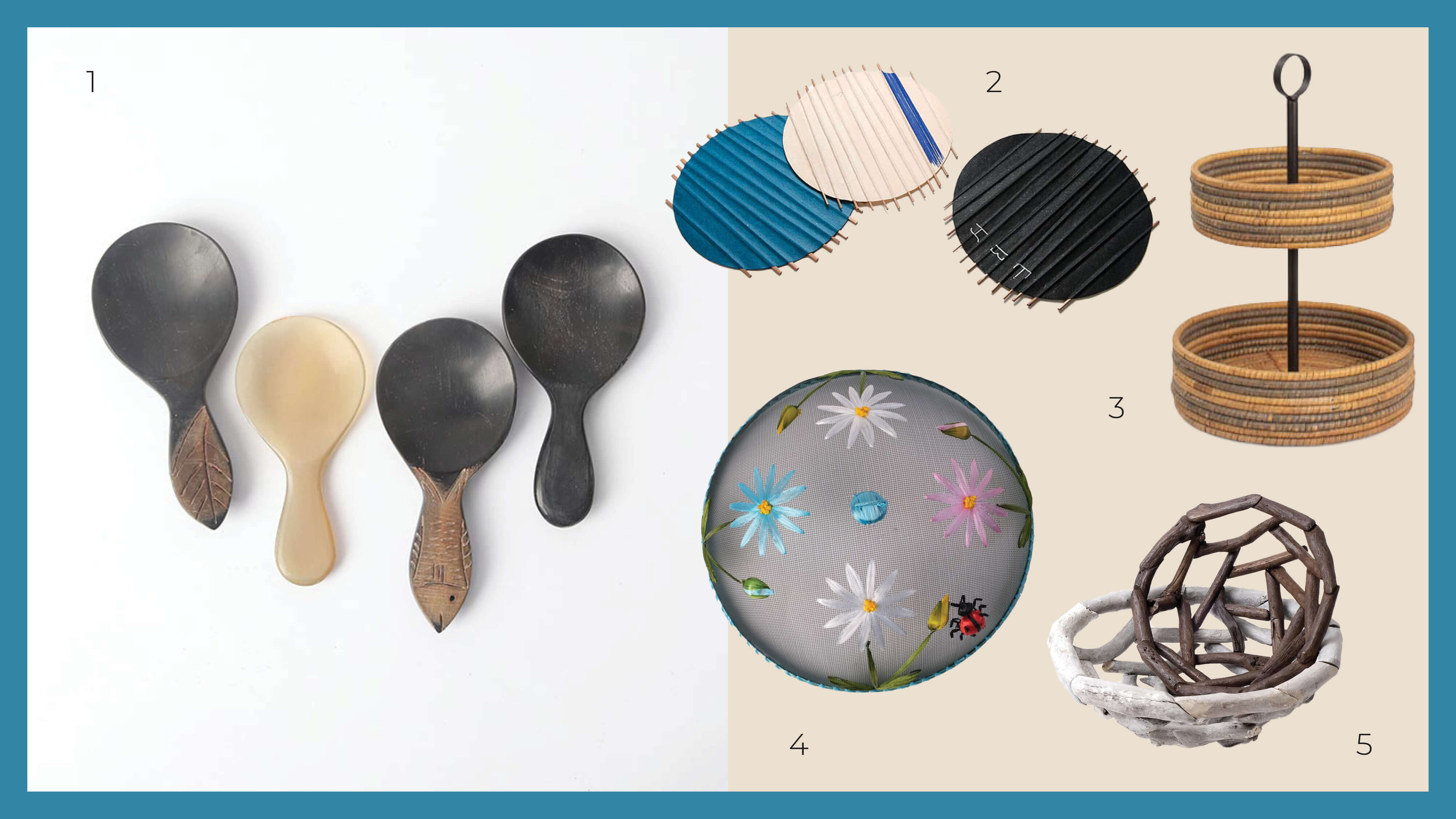 For a homey vibe, you can never go wrong with au naturel. Behind these tabletop pieces are interesting tidbits on the natural material they are made from and how they're made
In photo: 1) Teaspoons for tea leaves made of carabao horn. Teaspoons for serving tea leaves, ELM'S ACCESORIA DE CASA. 2) Tear-resistant, durable, and washable placemats made of leather paper from abaca and cogon grass pulp, and buri (or palm) sticks. Washable Paper Placemats (Plain Round), INDIGENOUS. 3) Fruit stand made of rattan and metal. Parros 2 Tier Fruit Stand, CALFURN. 4) Food cover with an embroidered design. Assorted mesh food covers, TGIA. 5) Set of bowls or tabletop decor made of driftwood. Stained Driftwood Bowl, 2911 Sourcing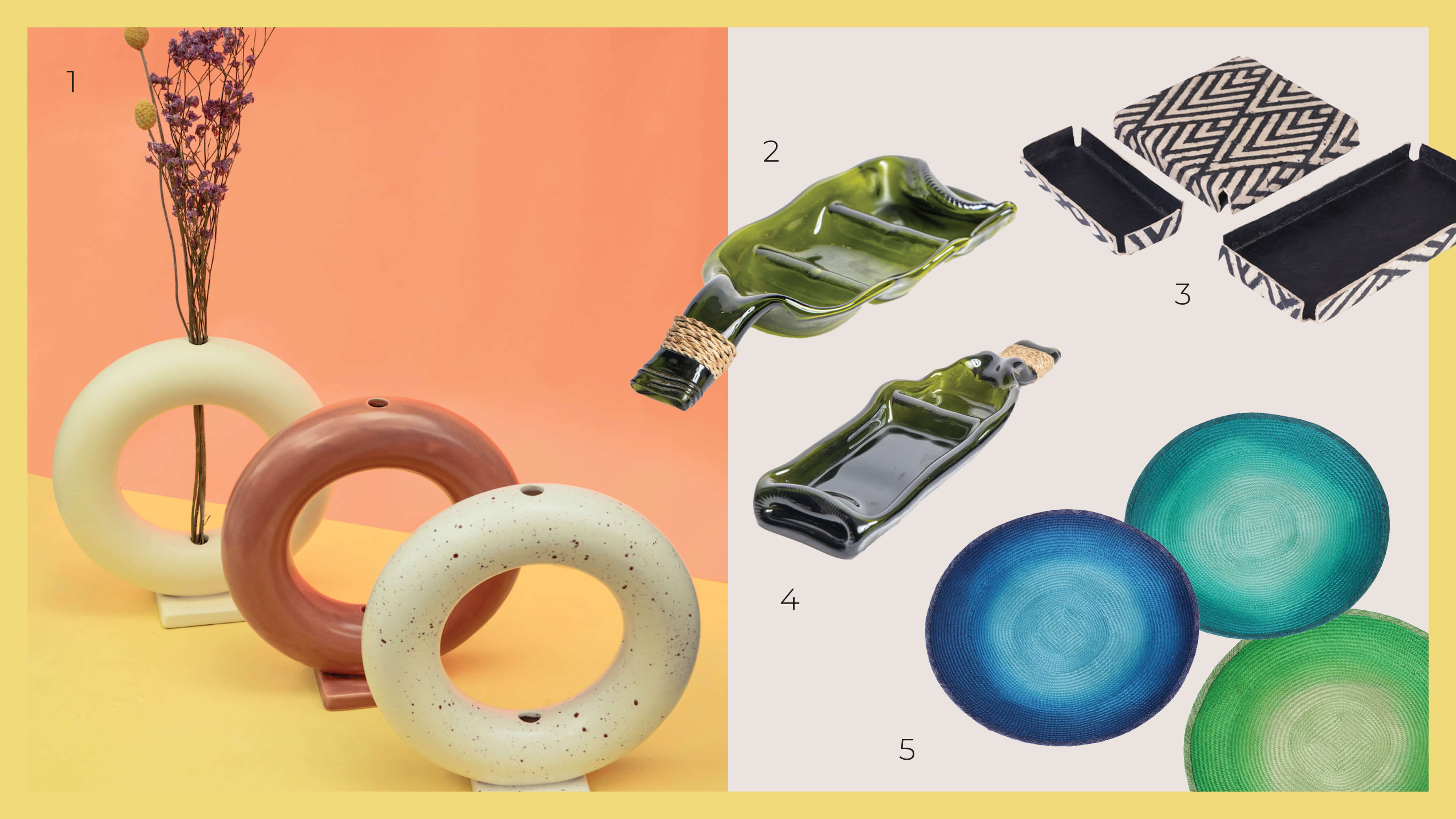 Curiosities on the table inspire good conversations. These fun, unexpected pieces will make your tablescape extra memorable
In photo: 1) Ceramic vase made shaped like Cheerio cereals. The Cheerio Vase, BONDI STUDIOS. 2 & 4) Used wine bottles melted to form into platters. Serving Dish with 3 Dividers and Serving Dish, YSSA'S. 3) Water-resistant and handmade paper tray made of abaca. INDIE TRAY, TUY ARTS AND DESIGNS. 5) Buntal (straw) placemats in ombré hues. HW17-1129 OMBRE PLACEMAT, ORIENT MEADOW

Photos courtesy of brands