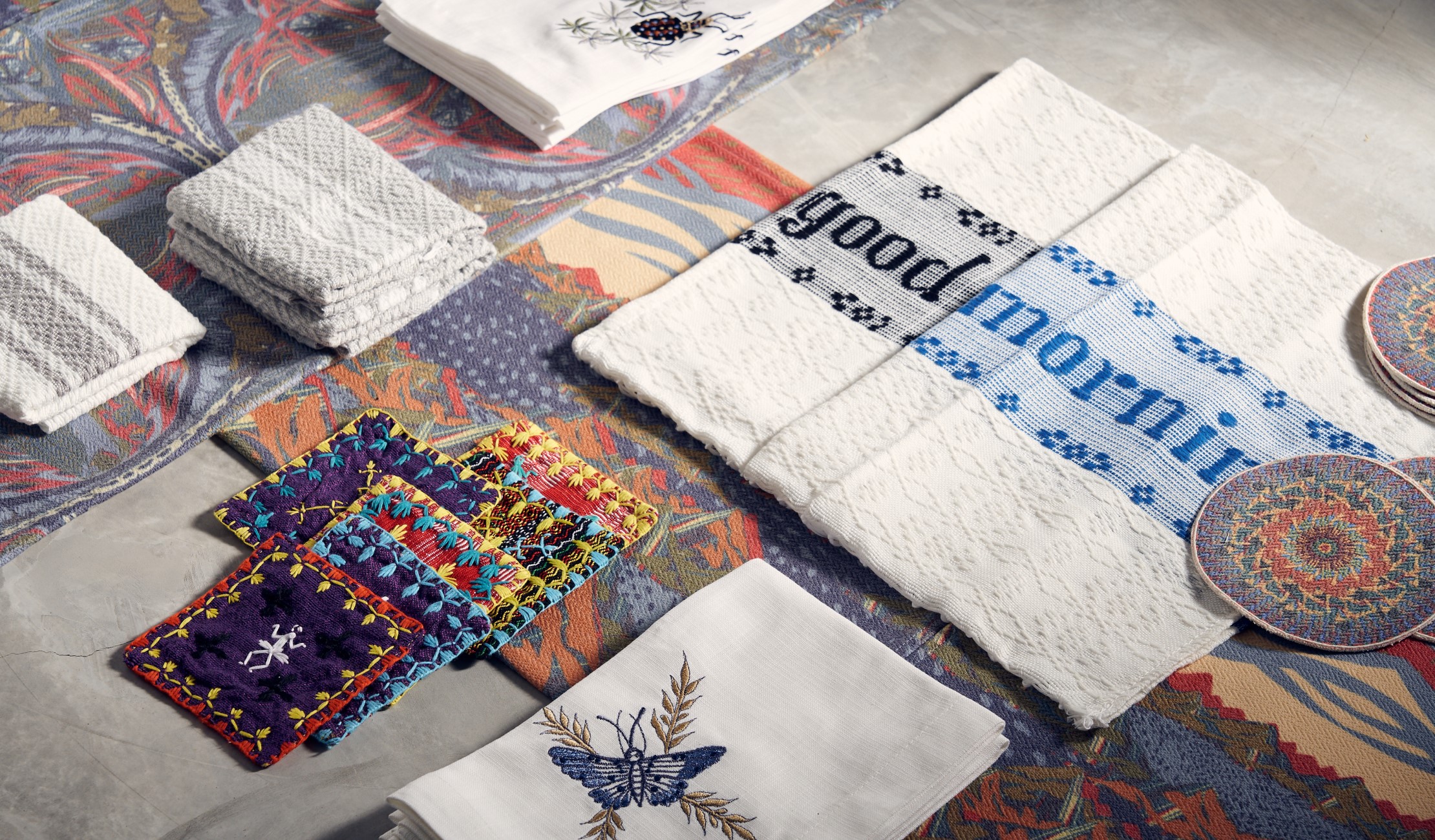 Woven Communities
Here's a roundup of home and fashion brands that help keep Philippine weaving traditions alive
There is a robust trend and demand for Philippine handwoven products locally and internationally. The current demand gives a boost to the fashion and home market, but did you know that it also helps the individual weaving communities as well?
With hand-looming and hand-weaving dwindling into a dying craft as recently as ten years ago, the rise of brands, companies, and social enterprises that create, sell, and sustain handwoven Filipino products came just in the nick of time. Here are five brands that help keep the weaving communities going.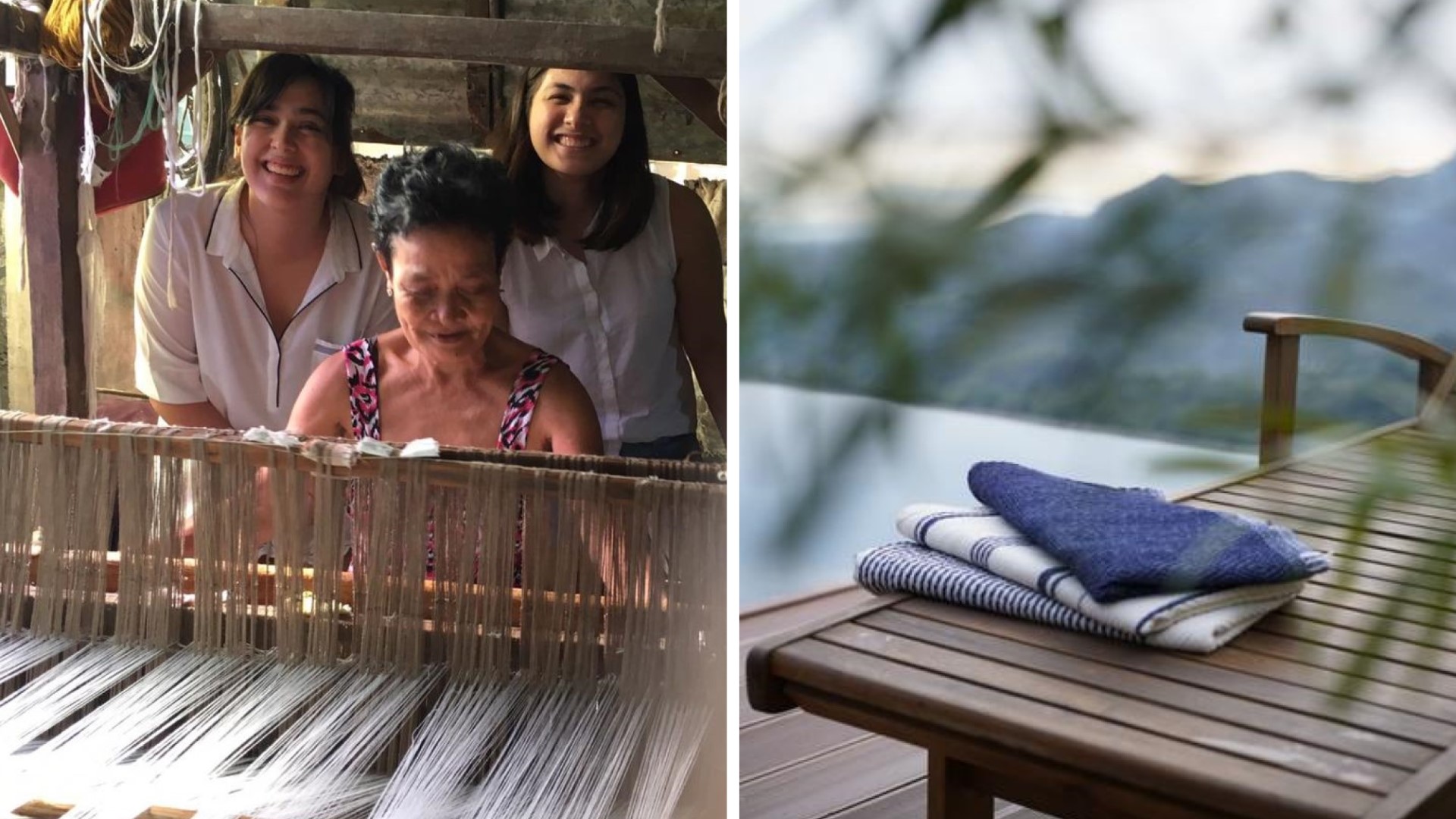 "It's always special for us when we are able to produce cross-community pieces, where we integrate the work of more than one community into a product offering," says Kylie Misa and Yvette Gaston (left) of WVN Living. The brand's 2021 collection (right) features soft woven blankets, robes, and linen in subdued and timeless colors.
Continuing the craft: WVN Living
Young entrepreneurs and WVN Living founders Kylie Misa and Yvette Gaston weren't only looking to sell their timeless and sophisticated woven lifestyle products on their website wvnliving.com, they also wanted to make sure that their artisan partners continue their traditions. "We place a premium on handmade goods because a lot of our partner artisans are motivated to weave due to economic reasons, despite the physical process," explains Misa and Gaston. "This is also why many traditional crafts are deteriorating in artisanal communities around the Philippines because the youth no longer wish to inherit the craft."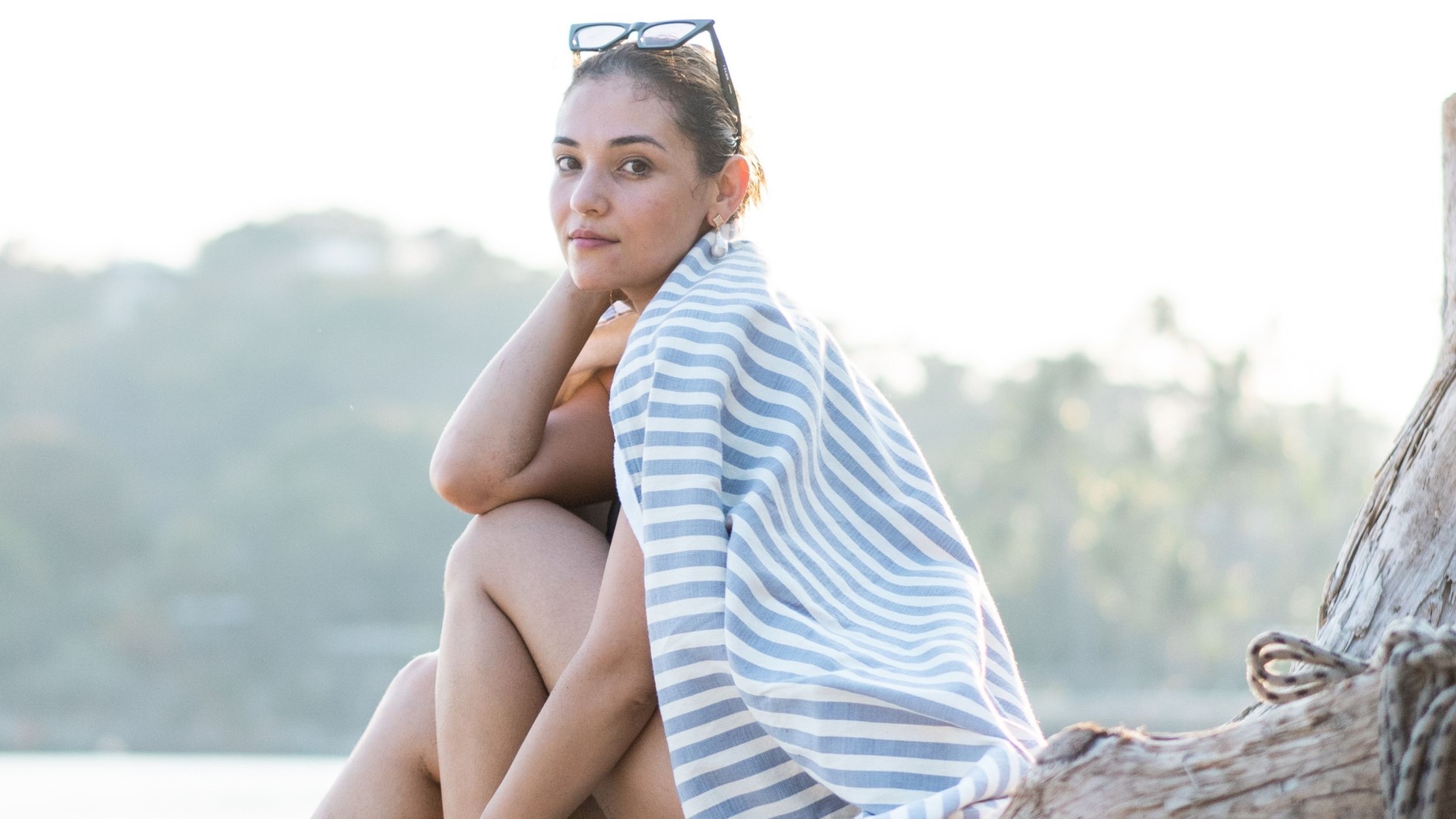 The Sail Blanket from WVN Living's Summer 2021 collection. "We're excited about releasing two new Blanket Towel designs—a handwoven cloth on one side and a terry cloth fabric on the other—that feel like a warm hug after a swim or shower."
This women-owned and women-empowering enterprise works with different communities around the Philippines to help support artisans and sustain their weaving traditions. "Aside from our primary partner community in Bangar, La Union [a province north of Metro Manila], we also work with artisans from Santiago, Isabela and Indang, Cavite to bring a different look and feel to our offerings. We also actively work with crafters from Albay in the Bicol region, who specialize in abaca. We would describe our work style as collaborative and our relationship as familial. We collaborate on new collections with artisan inputs weighing heavily in our design process."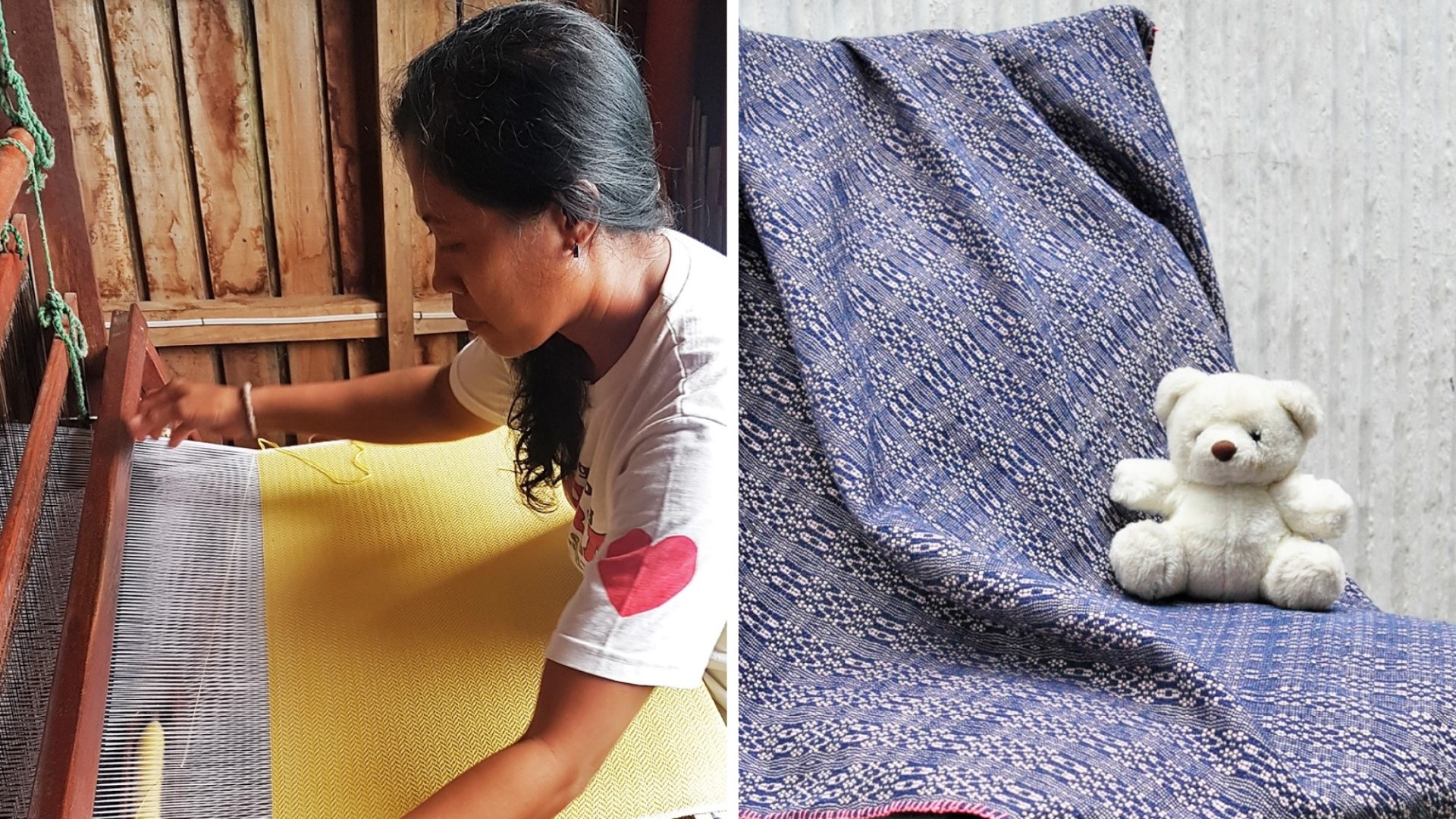 "Creative Definitions also hopes that a Regional Yarn Processing Center, with the support of DOST and DTI, be set up in Negros to tap the rich source of fibers in the island and convert them into sustainable textiles, making the island into a potential textile hub," says Claparols. (Right) Creative Definitions' soft, lightweight Addison Baby Blanket.
Negrense pride: Creative Definitions
Creative Definitions owners Mike and Banj Claparols have been constant collaborators and exhibitors at Manila FAME, HABI, HeArtefino, MaArte Fair, and many prestigious shows since 2008, featuring their fine home and fashion products made out of textiles woven in Negros Occidental. They then made a major shift in becoming a social enterprise by partnering with several weaving communities on the island.
"The first of these partnerships was established in 2017 with the Negros 9 Kabankalan Weavers. Living in a remote area in the mountains of Kabankalan, Negros Occidental, the weavers were organized in 2014 by Father Brian Gore…to create a steady source of income and improve the community's fledgling weaving industry," says Claparols, who believes that sustainability means "that there should be a balance between the environment, the economy and ethics." The handwoven products of the Negros 9 are now exclusively marketed by Creative Definitions in Metro Manila and to the international market.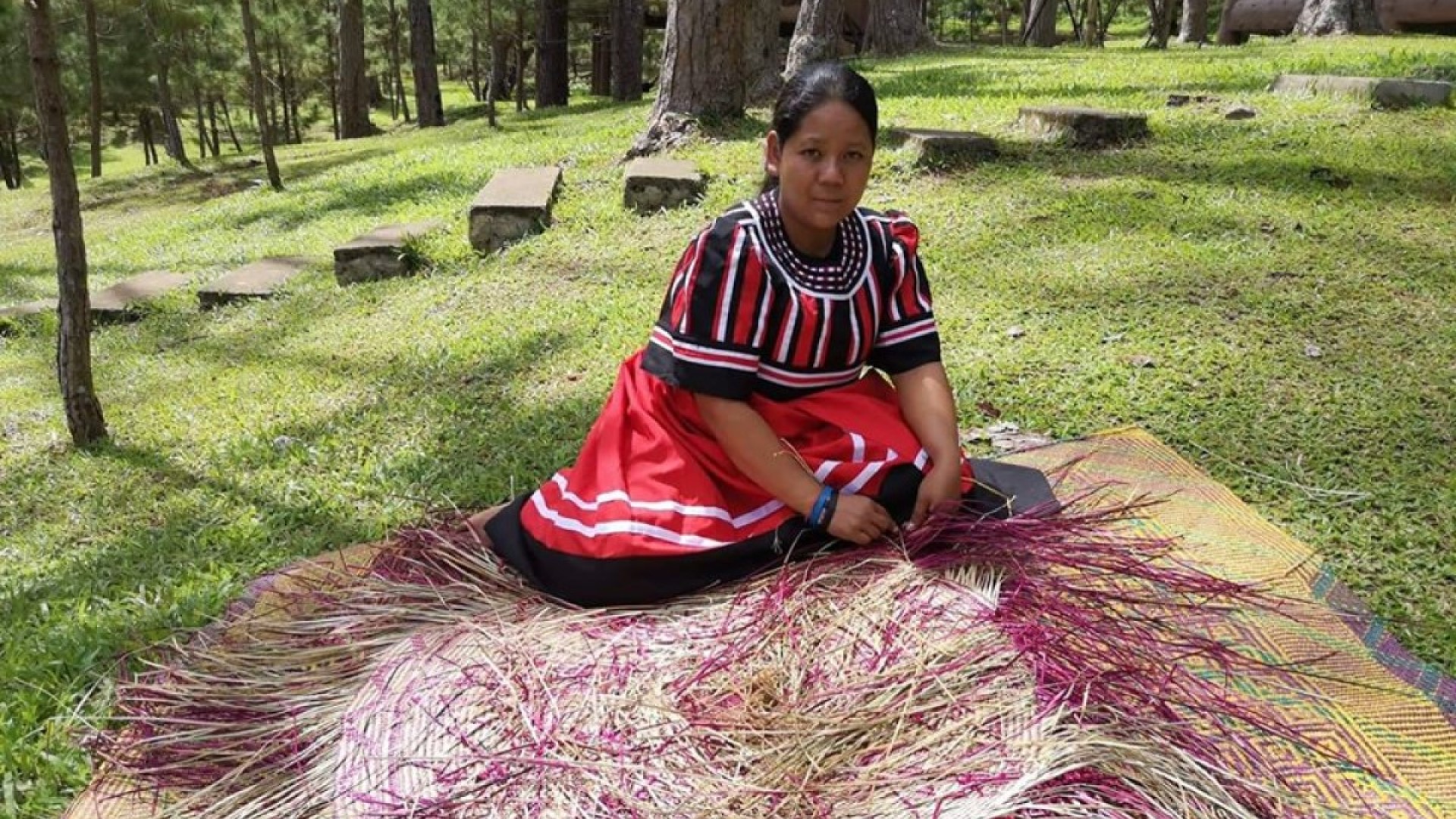 The Tagolwanen Women Weavers' Sodsod mats are available in a variety of sizes and shapes: four-foot and six-foot diameter round mats, and 6x4 feet and 7x4 feet rectangular sizes.
A blessing from the Divine Spirit: Tagolwanen
The Tagolwanen weavers in Bukidnon, Mindanao, don't just weave because they want to—they believe that their beautiful designs inspired by nature are created because of the blessings from the Magbabaya (Divine Spirit). Lorie Rago-Marte and her husband Anilaw recognized the need to protect these weavers' wellbeing and traditions and established the Tagolwanen Women Weavers Association, Inc. (TWWA) in 2012. Working with the Department of Trade and Industry, the association aims to help the weavers focus on their creations without worrying about where and how to sell the products, and encourage the younger generation to take up the weaving tradition. "We started with just one weaver, but now we have 80 weavers," Marte says.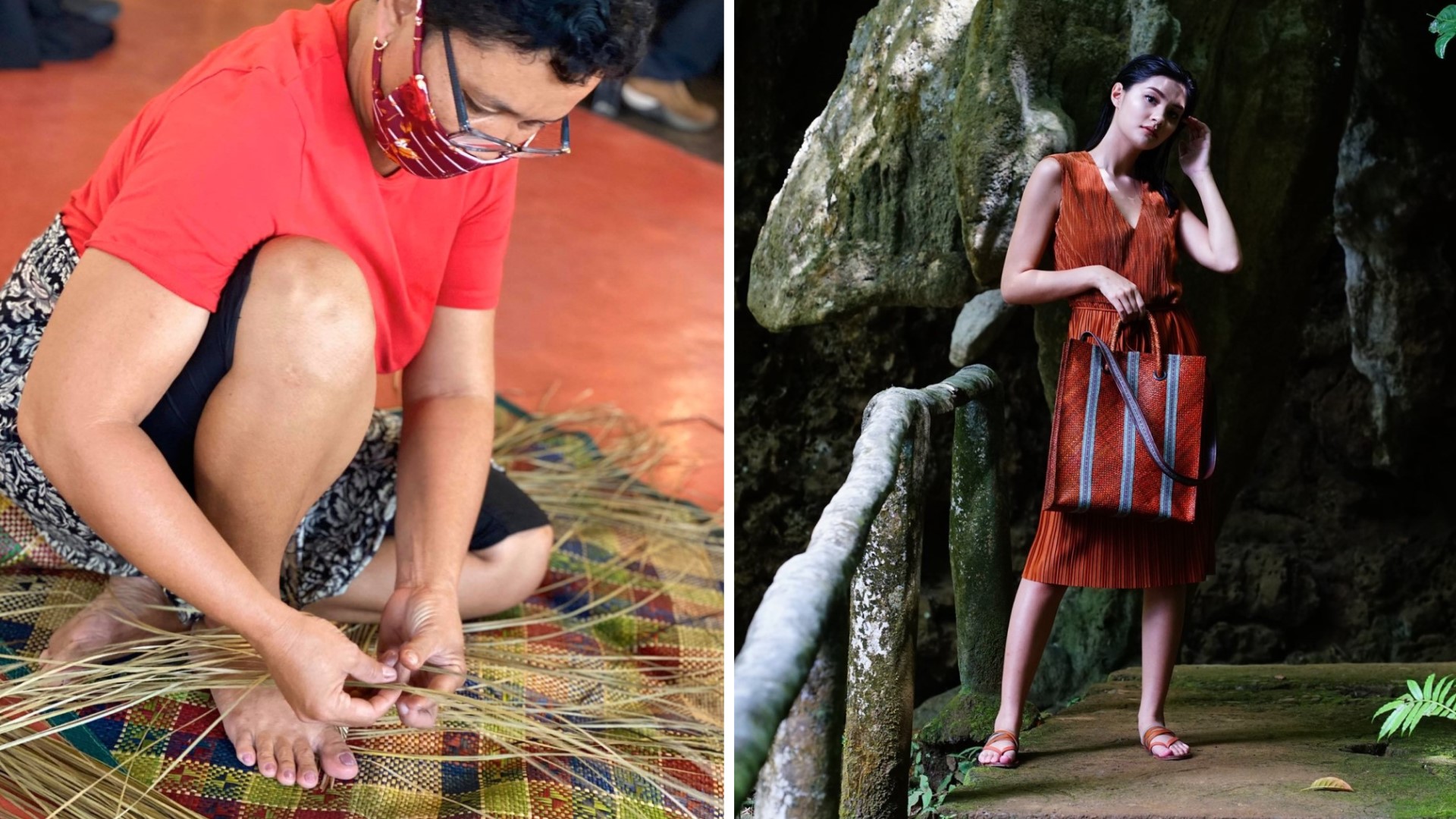 (Left) A maglalara (weaver) of Samar in action. The Luisa Bag by LARA (right) is just one of the platform's many modern, fashion-forward interpretations of banig (woven mat) that aims to push Samar weaves into the future.
Banig storytellers: LARA
The province in Samar in the southern Visayas region has a long history of banig or mat weaving that dates to pre-colonial times. The women mat weavers of Basey, who by tradition mostly weave in the cool shade of the caves in that area so that the tikog (reed) remains soft and malleable enough to manipulate. Spark Samar, the province's tourism arm, created LARA to create sleek, modern, and innovative fashion accessories made out of banig and other materials native to the province.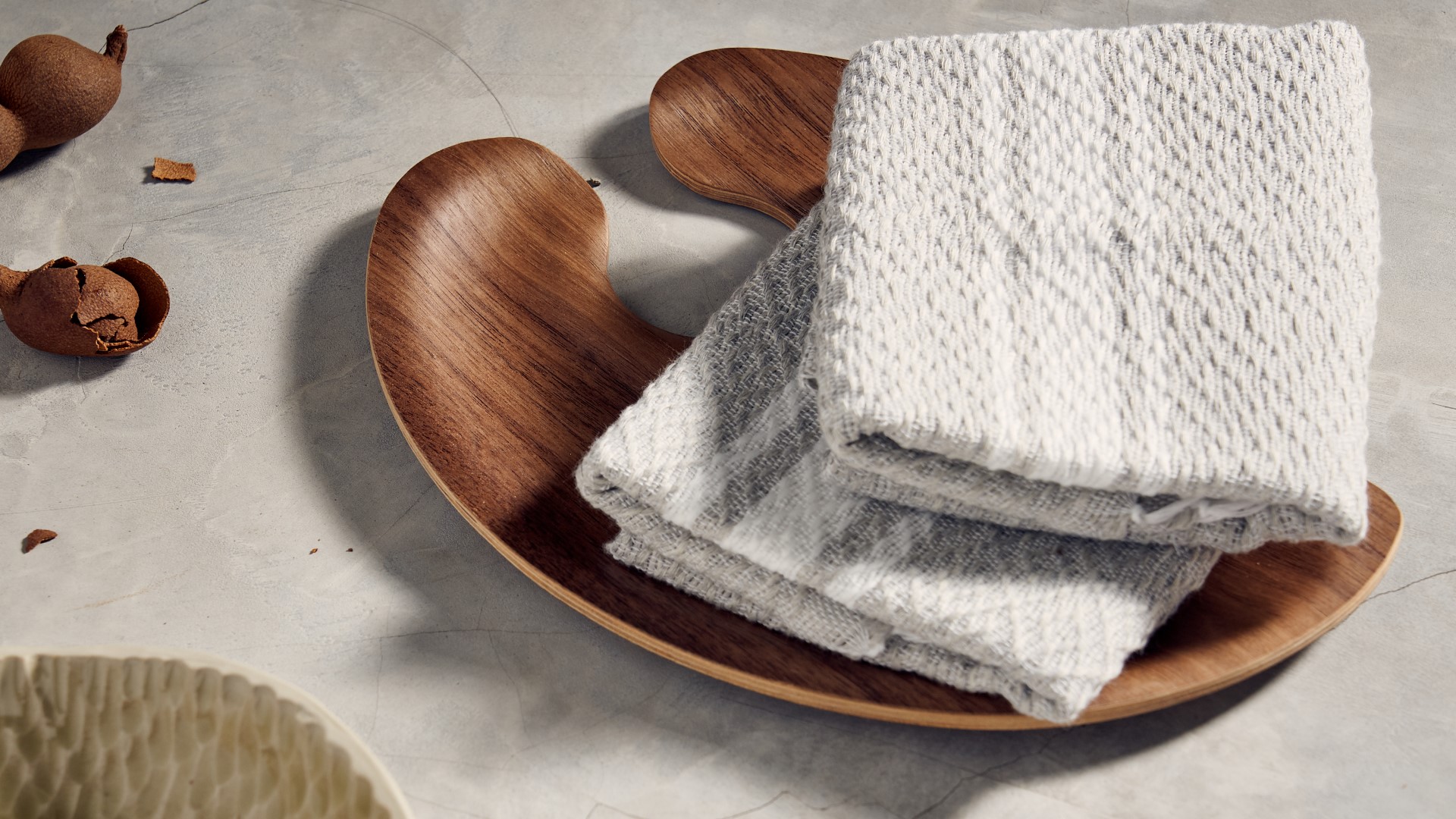 Partnering with Ilocano weavers, Cesca Torrente now creates blankets, pillowcases, and towels which she sells on her Instagram account @locano.ph. In this photo: Inabel Feliz Mini-Towels by Locano on a tray by South Sea Veneer.
Northern exposure: Locano
A quick vacation to her mother's hometown of Vigan in Ilocos Sur, a province located north of Metro Manila, planted the seed of Locano in founder Cesca Torrente's mind. Here, she discovered a handloom and all the beautiful woven textiles—called inabel—that were produced from it. A great respect for the Ilocano craft of abel weaving, as well as introducing quirky, modern-day innovations (such as weaving her own version of the ubiquitous "Good Morning" towels) helps push the textile forward. They recently launched "Weave it Yourself" weaving tutorials in partnership with The Art of Yarn to teach weaving to others and keep quarantined folks occupied.
Interviews by Rachelle Medina, Anna Felipe, and Bubbles Salvador. Main photo by Dairy Darilag, styling by Tala Singson and Dagny Madamba. (Clockwise from top left): Feliz Mini Towels, Locano; Coreid Bug Nymph Napkins, The Olive Tree; Good Morning Towels, Locano; Kalaro Coasters and Blue Tiger Moth Napkins, The Olive Tree; Itneg Handwoven Reversible Coasters, Yagam Coffee. Other images courtesy of the brands.