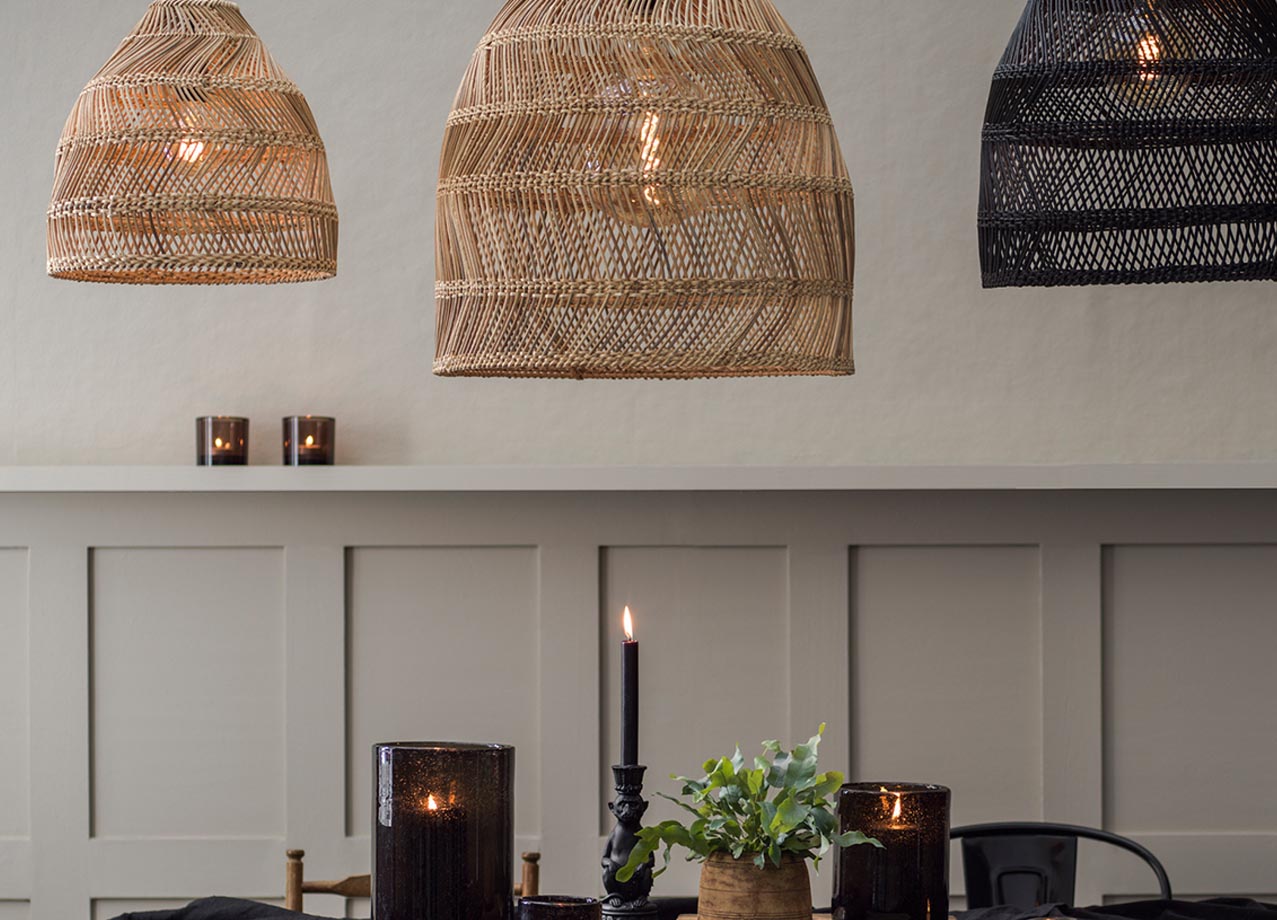 Will Rattan Survive the Industry's Demand?
A closer look at the versatility and functionality of rattan, the multi-purpose material that has vitalized businesses, communities, and weaving traditions in the Philippines, and the future of its supply chain post-pandemic


by Miguel R. Llona with Mel Patrick Kasingsing

Anyone who grew up in a Filipino home has encountered rattan at least once in their life. This rope-like material has been woven into our consciousness because of its numerous applications, as either structural support for furniture or as a solihiya pattern accenting a piece.
Because of its universality, no other material has been as reflective of Filipino craftsmanship. The color and texture of rattan project a natural aesthetic, emblematic of the tropics it was harvested from. Whether it's used for chairs, handbags, décor, or even for weapons in martial arts like arnis or eskrima (both local stick fighting sports similar to fencing), it is a material that allows our local designers and artisans to display their skill and ingenuity to the world.
"Rattan has proven to be the most lasting and versatile of the materials we've used in terms of product design," says Monica Climaco of Home Edition, a Mandaue-based company that creates home and décor products from natural materials. According to Climaco, being able to process rattan in various forms such as wicker (round-shaped), Hong Kong splits (flat), and peeled or unpeeled stems open up more design possibilities compared to other plants such as buri, abaca, and nito.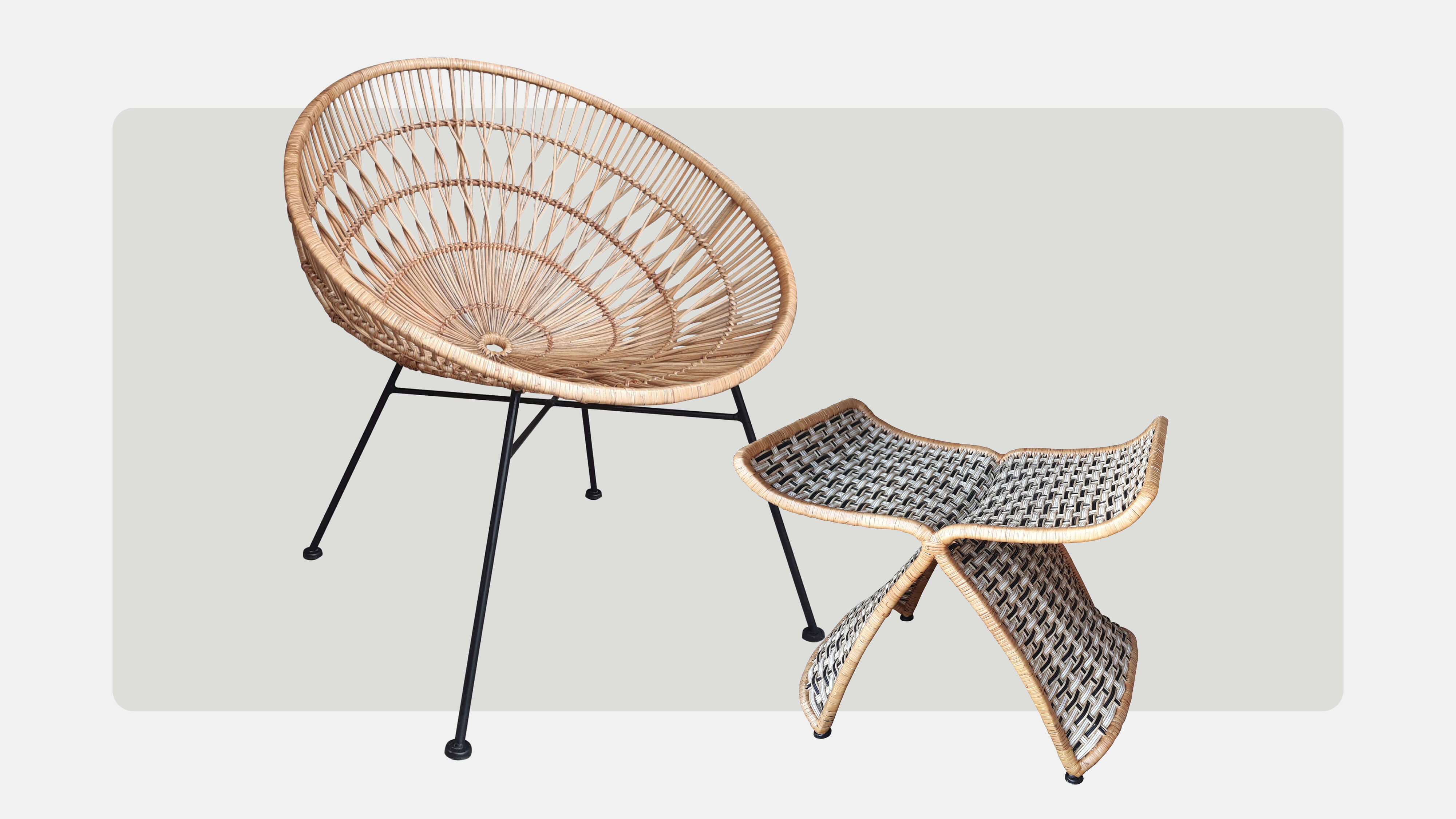 In photo are the Crisanta chair and the Inez stool, beautiful renditions of rattan by Home Edition
Home Edition is just one of the many manufacturing companies thriving on rattan products, having been in the business for 50 years. Their catalog is mostly made up of furniture pieces, where one could see a range of styles showcasing the versatility of rattan in the armchairs, stools, and tables they offer. Most of their products have soft, curved edges that display the pliability of the rattan stem, as seen in the Crisanta chair and the Inez stool.
RATTAN: THE WONDER MATERIAL
There are more than 600 species of rattan with 13 genera, classified as either high or low climbers, or growing as single stems or in clusters. Though the rattan plant belongs to the palm family (or arecales), it grows like a vine, with the stem measuring 2-5 centimeters in diameter. The stems are covered with spikes that function as hooks to climb vegetation so it can access the best sunlight. Some rattan plants have been known to grow as long as 100 meters.
The Philippines has an abundant supply of the plant in its tropical rainforests, enabling it to become one of the main exporters of rattan products all over the world. It thrives in moist environments, so it commonly grows in tropical countries in Asia and Africa, as well as parts of Australia. The rattan used for the furniture and crafts we usually see in the market are those that grow in hilly, mountainous areas in the tropics, where the average temperature is 25 °C with annual rainfall.
Adding to its value as a resource is its ability to grow all year round. It can be harvested any time, unlike other seasonal plants, and is easier to harvest, unlike heavier tropical woods, with its location in mountainous terrains being the only obstruction to harvesters. This has helped uplift rural communities that depend on it for their livelihood, which in turn has kept several traditions in furniture-making and weaving alive through the years.
THE SUPPLY CHAIN
Most of the rattan used by local manufacturers and designers are locally sourced. Rattan grows in abundance in the mountainous regions of Mindanao, Visayas, and Palawan. Rattan gatherers generally harvest the stems during the dry season, owing to the difficulty of traversing the mountainous terrain during the wet season.
The price and value of rattan poles can vary depending on the processing methods they have been subjected to. Primary processing involves stripping the stems of spikes, soaking them in water to be cleansed of dirt, then drying them. Stems with smaller diameters are either dried in the sun or smoked with burning sulfur, while the thicker ones are boiled in oil to eliminate any moisture inside and to protect from insect infestation. The skin of the stem can be peeled off for weaving purposes, while the remaining poles can be used as frames or structural support in furniture-making. Furniture and handicrafts manufacturers remain wary of unscrupulous traders, who pass off stained or untreated rattan poles as ready for use.
The supply of rattan is usually dependent on the weather, since they need to be sun-dried before they could be used for any purpose. The rainy season, particularly in the event of sudden typhoons or heavy rains, makes it more difficult than usual to harvest rattan, causing delays in the supply chain. Stormy weather could disrupt transport and cause prices to go up due to the difficulty of harvesting and preparing the material.
According to the UN Comtrade Database, the Philippines was one of the five biggest exporters of rattan in the world in 2015, mostly in furniture, basketwork, and raw materials. Deforestation is identified as one of the biggest threats to the local rattan supply in the future. Illegal logging has been rampant in Philippine forests, and the continued degradation of these ecosystems directly affect the rattan supply chain. This could also affect the export of the raw material abroad, as foreign markets are growing stricter when it comes to sourcing from forests that are not sustainably managed.
CANE AND ABLE: RATTAN IN FURNITURE
Every reliable material has its advantages, but rattan's strength, flexibility, and lightness endear it to most of our local furniture-makers and craftsmen. After being processed, it can easily be shaped into different forms yet still retain its sturdiness, making it a versatile material to be used for any design requirement. It's even strong enough to be used as housing material in rural areas.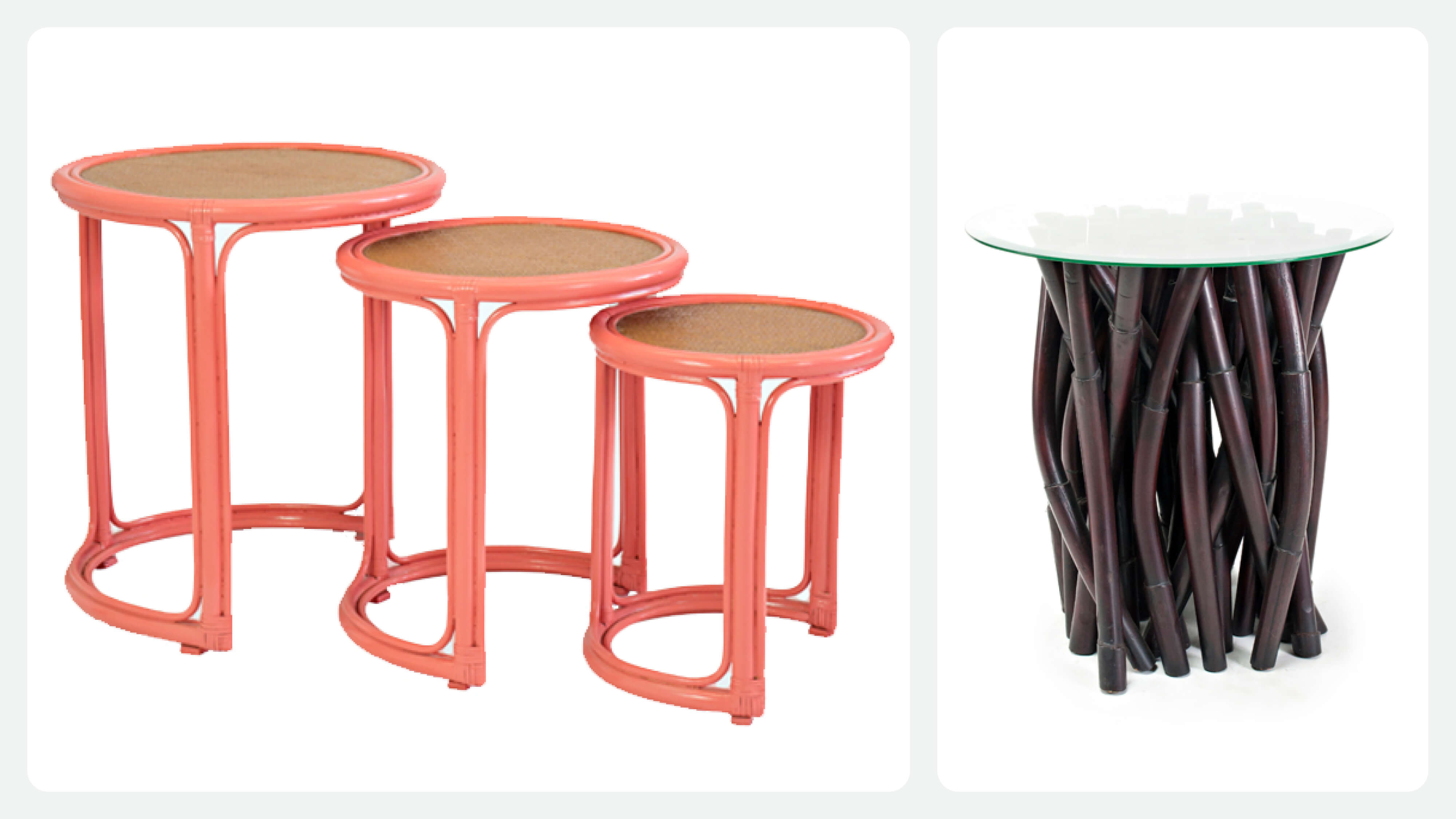 As seen in the Pink Nest and Anemone tables, Obra Cebuana demonstrates clever design manipulations of the rattan
The design possibilities of the material are explored even more by Obra Cebuana, a Cebu-based company that aims to evoke the "rustic soul" of the Philippines by using local indigenous materials and incorporating hand-weaving for its products. "Rattan furniture has an evergreen quality and a sense of casualness, with a natural beauty that never goes out of style," says Selina Selma-Romualdez, co-owner of Obra Cebuana. Their rattan is sourced from Mindanao, which they process themselves with a combination of scraping, torching, sanding, and bending, all depending on the design requirements. As with Home Edition, Obra Cebuana's pieces are daring in their design, with complex bends and curves achieved through skillful blowtorching.
The rattan stem, when peeled, is absorbent enough that designers can paint over it with the color of their choice. This can lead to pieces that look more contemporary in style, such as the Pink Nest and Anemone tables from the Obra Cebuana catalog, with the latter's rattan poles painted a dark chocolate color. Designers looking for a more natural look can use unpeeled stems, finish it with varnish, or simply sand it down to a smooth sheen.
WOVEN NARRATIVES: RATTAN'S VERSATILITY
While wood also provides a tropical aesthetic when used as a material, rattan's qualities enable designers to experiment with intricate patterns and motifs that are impossible to pull off with timber. The most recognizable weaving pattern that can be done with rattan is solihiya, a starburst pattern that has survived through the years thanks to its timeless design and the expertise of the many weavers and business owners that proliferated the motif.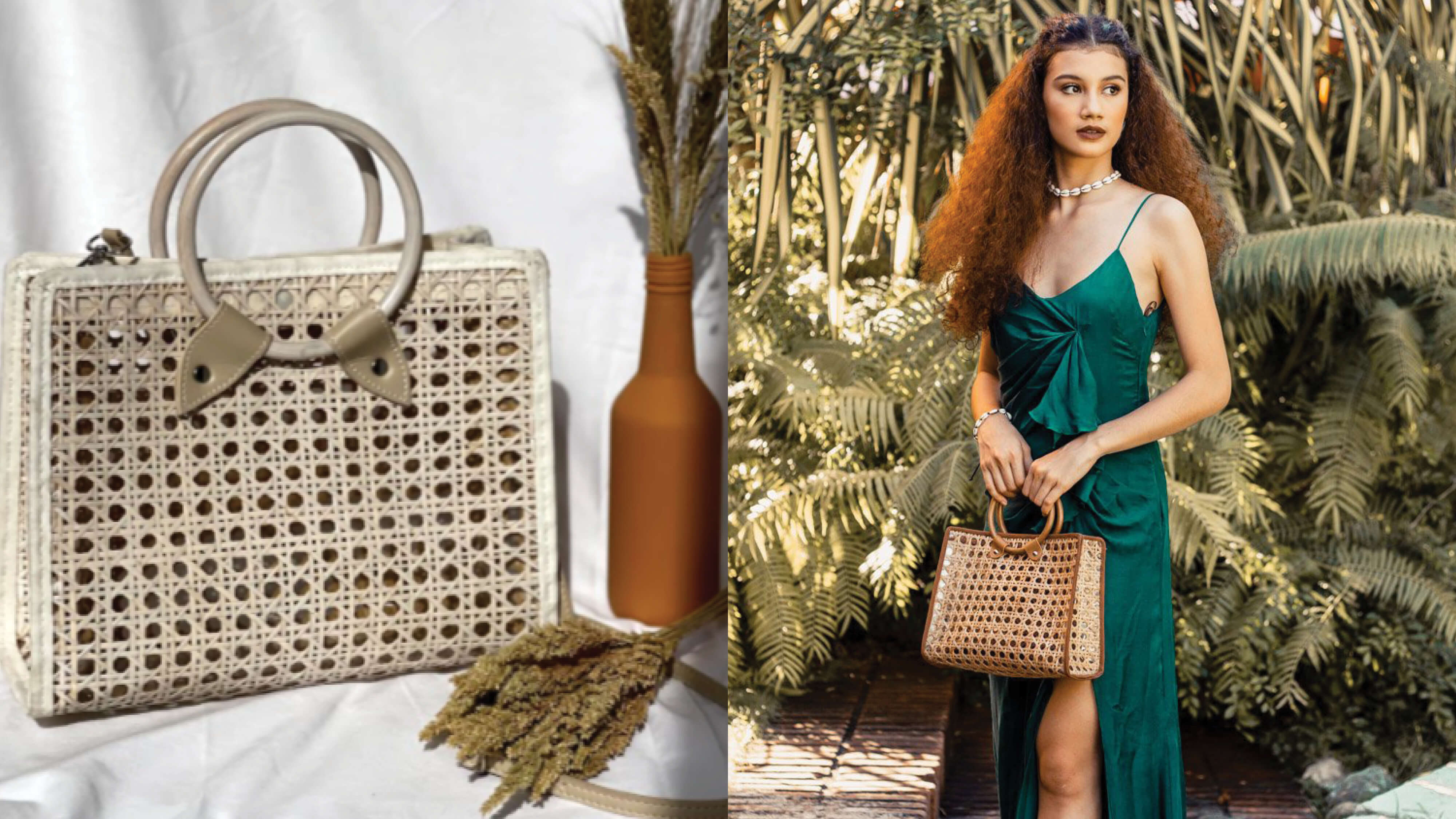 Established in 2005, Island Girl aims to preserve the craft of handweaving rattan
Island Girl is one of the many local brands that champion the art of solihiya weaving. Known for their solihiya handbags and other accessories, Island Girl prefers having their products hand-woven instead of machine-made as they want to sustain the craft as part of their identity.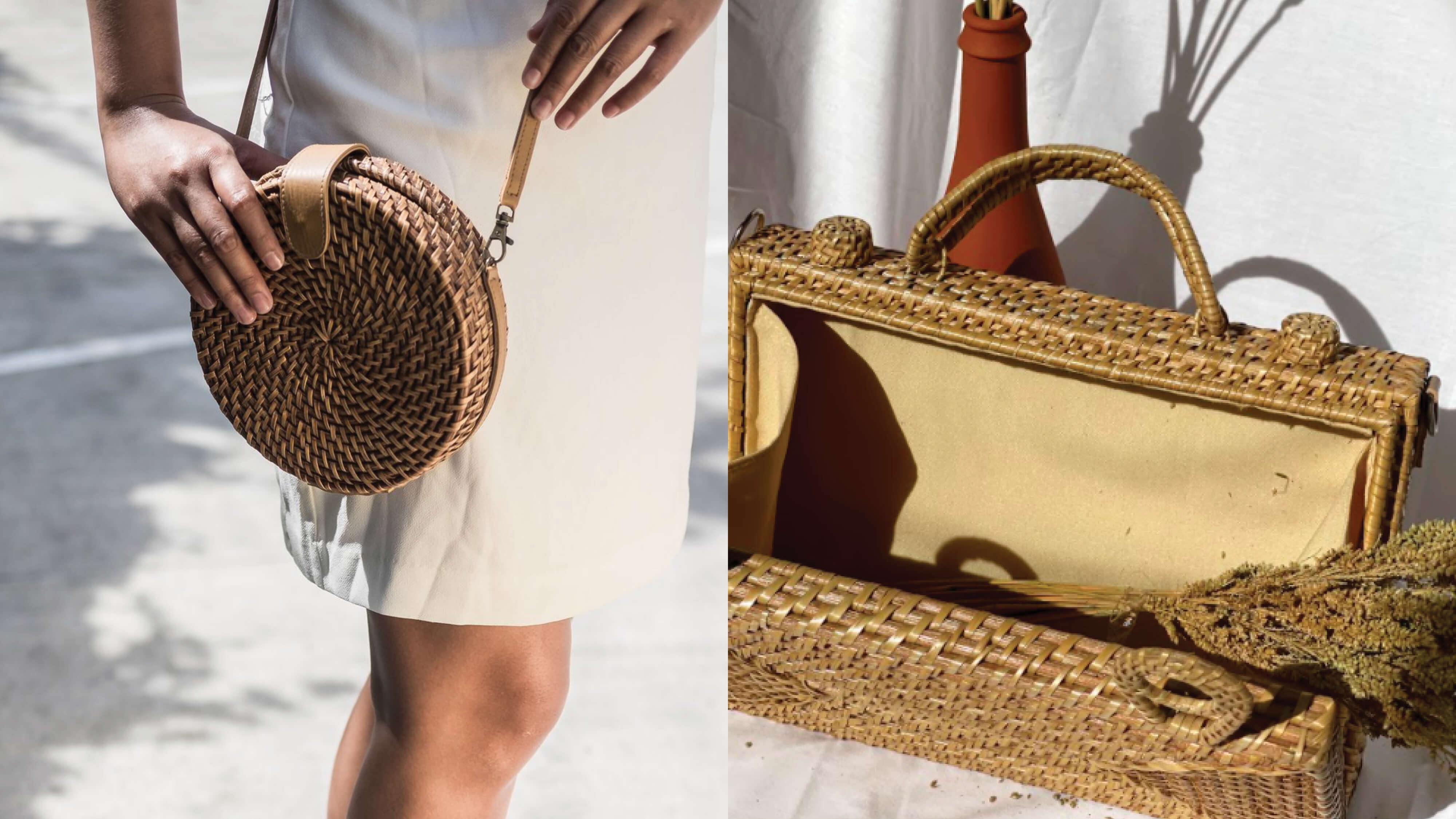 Island Girl's resort accessories are created together with weaving communities across Cebu
Instead of purchasing rolls of machine-made solihiya patterns, they prepare the rattan themselves by feeding them into a splitting machine to achieve the correct strip size, after which the weavers would create the iconic pattern from the comfort of their home. This method allows them to customize the weave depending on the product's design and specifications and enables a zero-waste approach in production.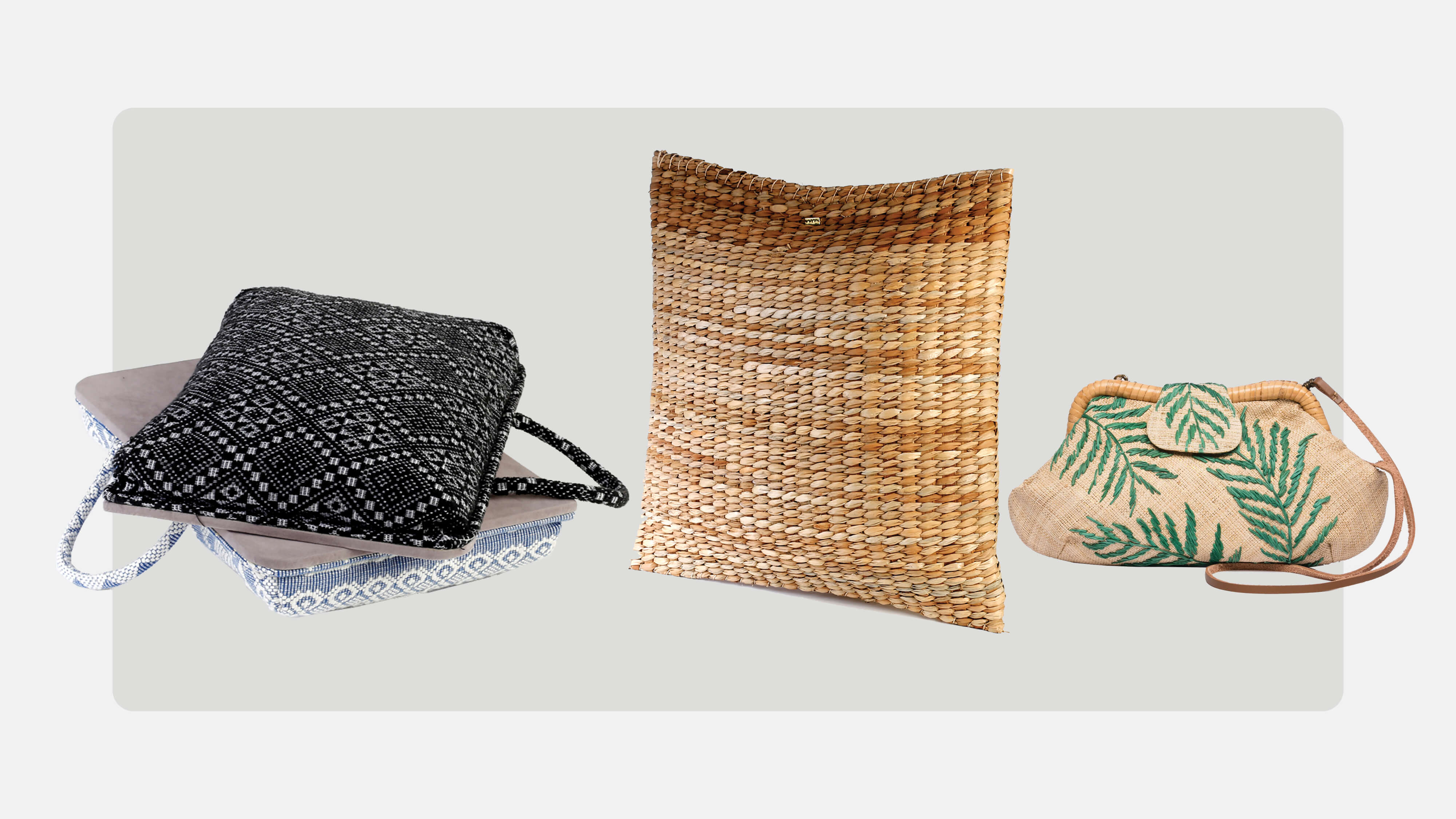 Larone Crafts explores different ways to weave rattan into everyday fashion must-haves
Because of rattan's toughness and texture, it can be hard on one's fingers, so it takes deftly skilled weavers to create great patterns with the material. Jennifer Lo of Larone Crafts, another brand bent on preserving rattan weaving traditions, says that the material supports structured shapes that they can "weave to take the form of a dog, cat, or even an elephant." "The forms we can create are endless," she shares. The brand has churned out a plethora of products from this single material, ranging from baskets, lunch boxes, laptop cases, and even ladies' handbags.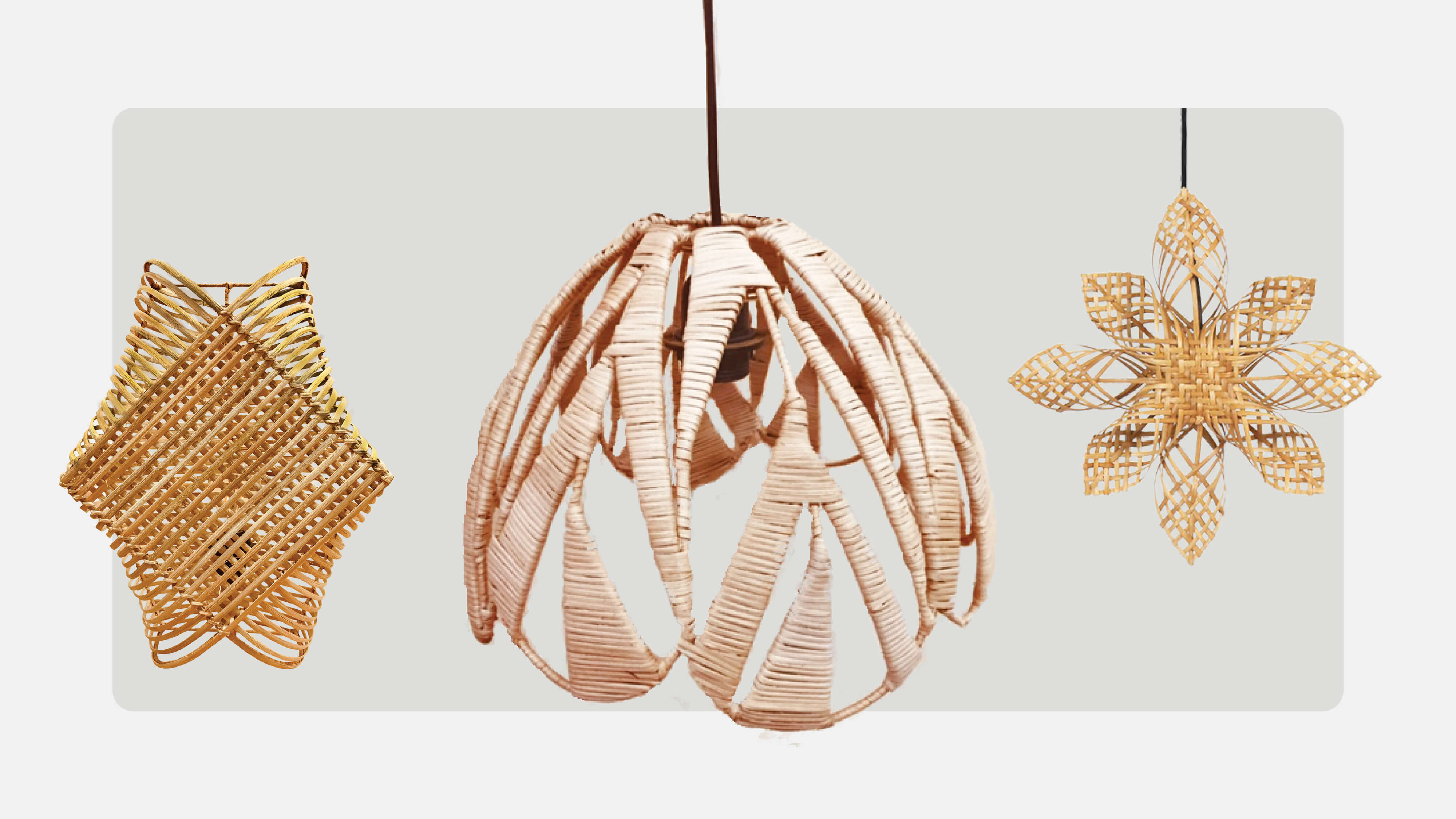 Known for their attractive lamps and lighting fixtures, Arte Cebuana weaves in creativity, excellence, and a commitment to its craft into their work
Rattan's flexibility allows artisans to weave it into any product, which makes it a good material for lighting fixtures as well. The pendant and table lamps of Arte Cebuana shine with tropical flair, fashioned into shapes that evoke indigenous motifs. "Extruded strips of rattan are so flexible that they could follow the form of any metal frame," says Mona Padilla, general manager of Arte Cebuana.

RIDING THE WEAVE: WHAT DOES THE FUTURE HOLD FOR RATTAN?
The rattan trade is a billion-dollar industry worldwide, but like most other industries in the past year, it has been greatly hampered by the COVID-19 pandemic. While weavers and artisans remain unaffected since they mostly work from home, the supply of the material itself has been disrupted by the sweeping changes brought by the pandemic.
Monica Climaco of Home Edition shares that they have experienced severe material shortage for a variety of reasons, ranging from the lack of ships moving between islands, the difficulty of transporting goods between barangays and cities due to the lockdowns, and the added red tape encountered in different local government units. To compound the problem, the shortage has driven prices of rattan up by 15 to 20%.
Yet despite these problems, the demand for rattan products has increased during the pandemic. The drastic changes in lifestyle, both for work and leisure, have encouraged people to invest in furnishing their spaces more than ever. Because of its tropical aesthetic, buying a rattan product is like bringing a touch of nature into one's home or workplace.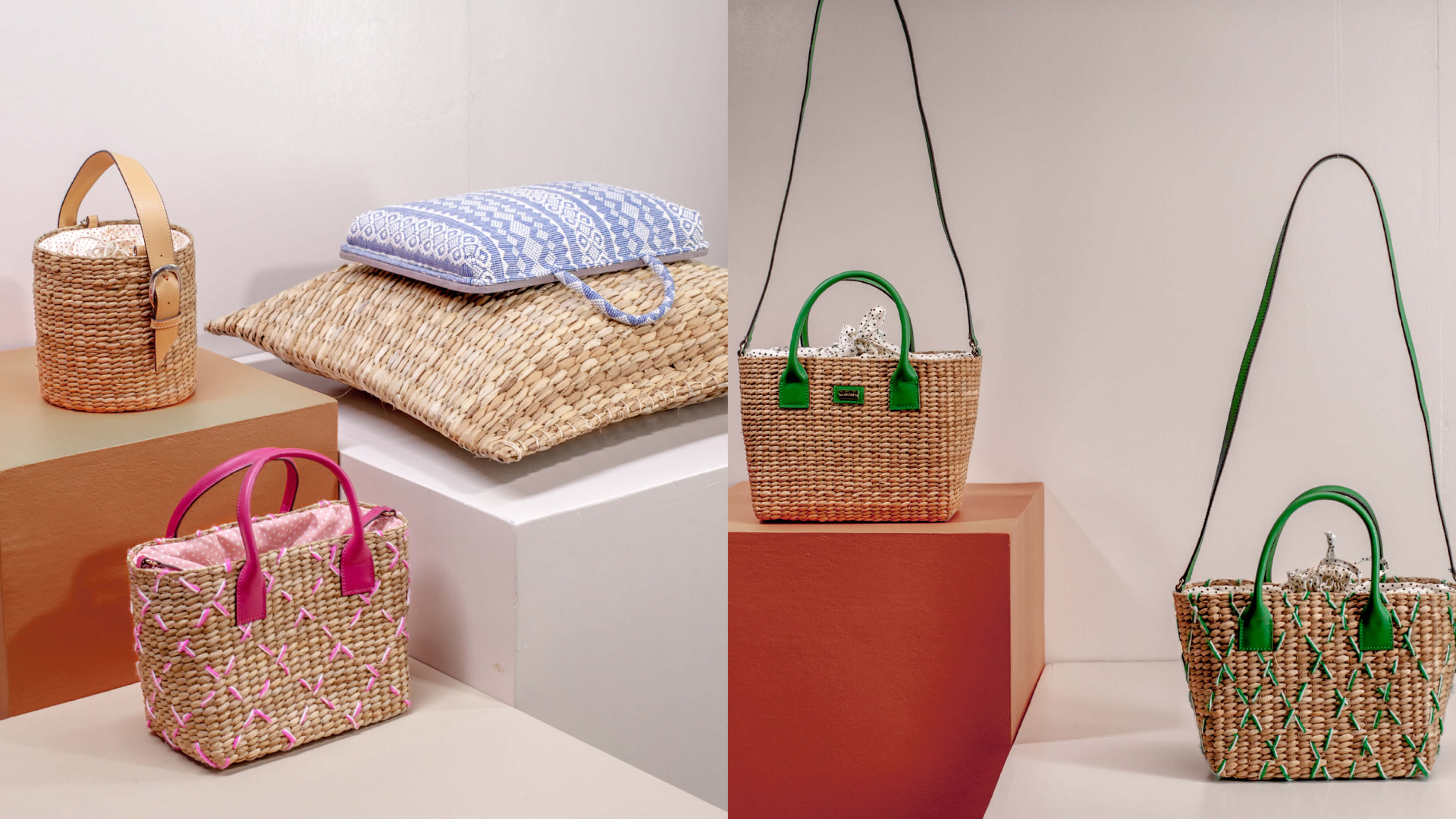 Larone extends its rattan-made offerings, from fashion accessories to home decor
This recent trend of communing with nature and a rising interest in pursuing greener lifestyles make furniture brands and retailers confident that rattan products and their organic appeal will remain popular. "In the future, I believe more people will be awakened to the fact that we need to be environmentally aware of the types of materials being used in everyday items," Lo says. "Rattan is a very sustainable plant material, and biodegradable too."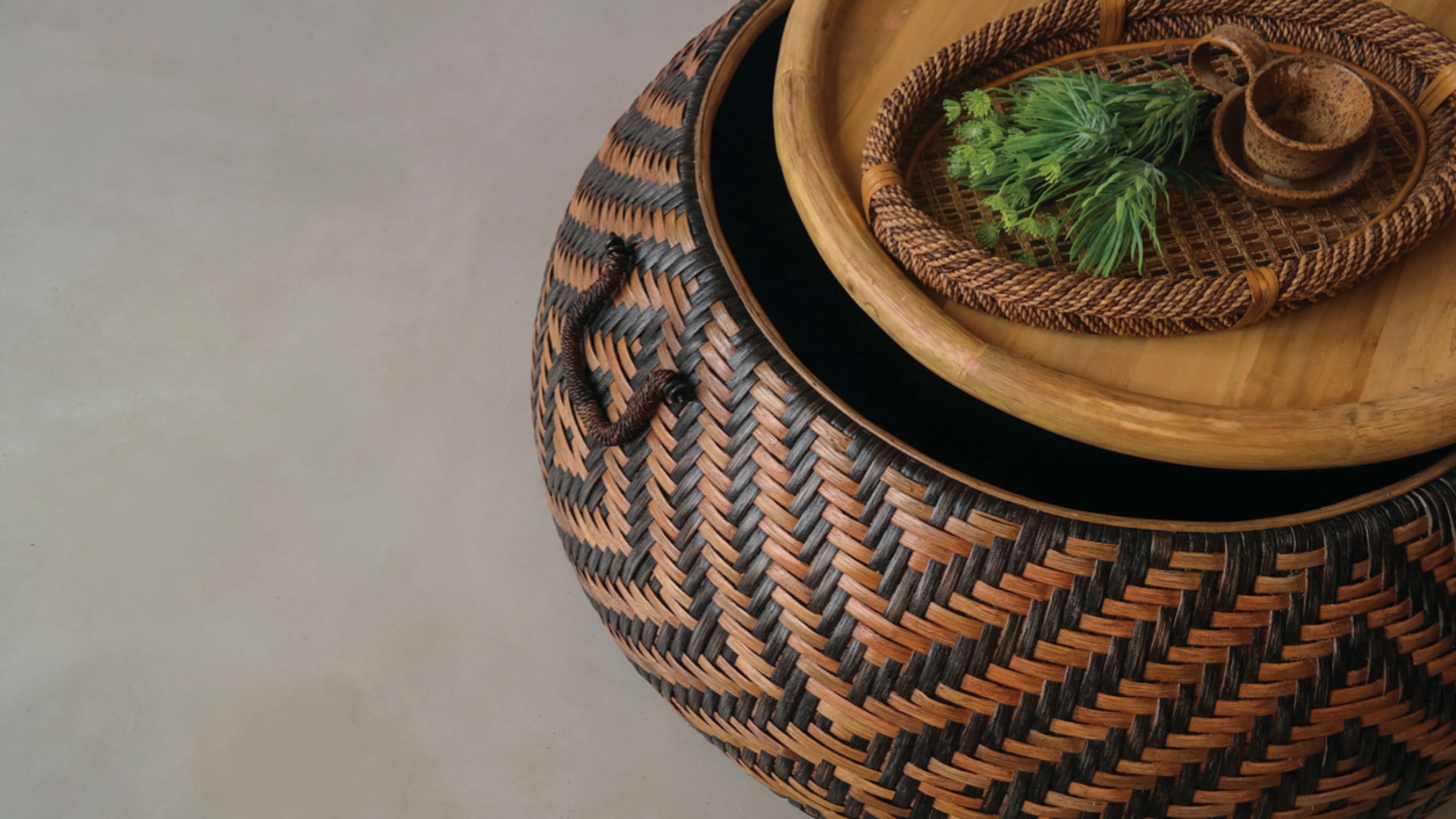 Since 1990, Obra Cebuana has worked with generations of expert craftsmen to create distinct furniture pieces made of rattan
True to its durability and strength, it's safe to assume that rattan will be here to stay in our new normal, uplifting the livelihoods of crafting communities which in turn breathes life into cultural traditions. It is, however, imperative that the shaky logistics and stunted supply chains wrought by the pandemic are addressed to enable continued access of our businesses to rattan. Selma-Romualdez is optimistic about the future of rattan. "The broad acceptability of rattan and its subsequent growth in the market is constant," she notes, "and will surpass this pandemic phase."