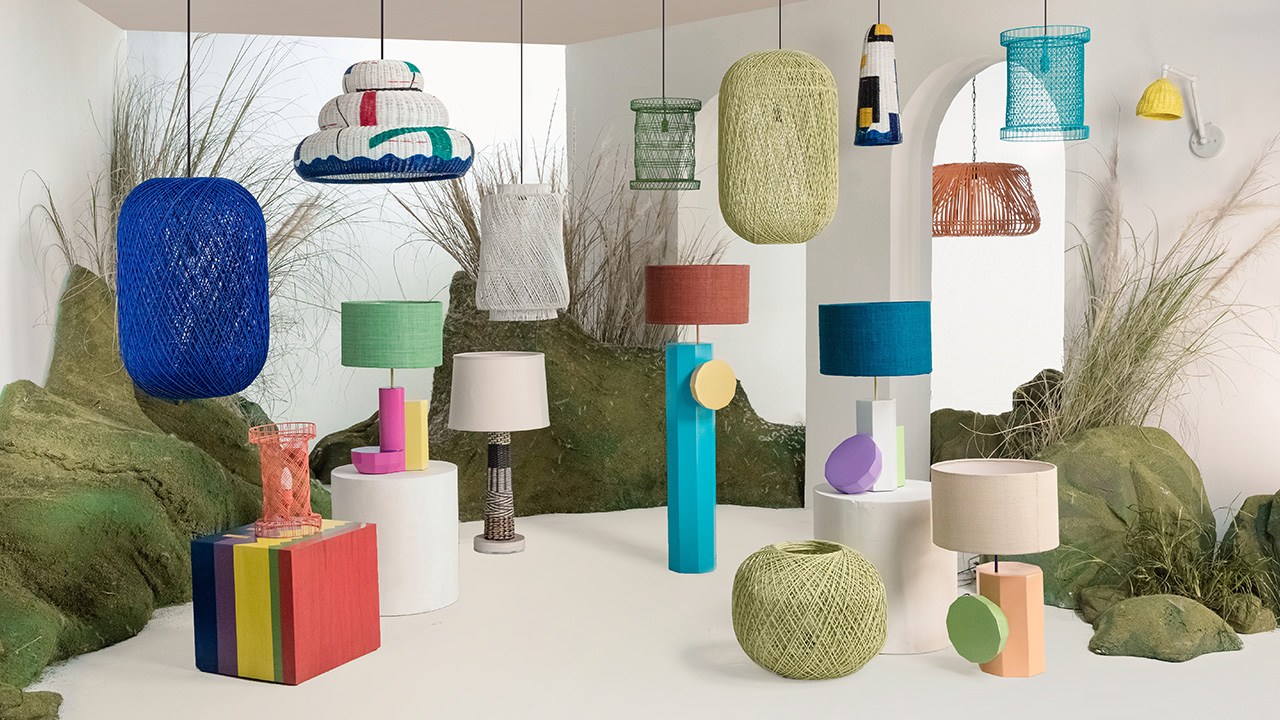 DesignPhilippines Brings Bright Lights to Liven Up the Room in 2023
Be tempted by the unique shapes and eye-catching hues.
There's no contest: Natural light is the best type of lighting. However, there are days when the sun and all it has to offer just isn't enough. But how to bring that light indoors without giving in to brighter but less welcoming artificial light?

Come Together… Naturally
Filipino artisans are creating more than just your run of the mill lamps and light fixtures. Culturally-significant stories are ingrained in the design while incorporating homegrown materials such as some of the Philippines' best natural fibers: pineapple, abaca, and cogon—a grass-based leather-ized paper. Sturdy yet pliable, these materials help create intricate structures that show a whimsical side to lighting decor in the most quintessentially Filipino way.
DesignPhilippines has curated a collection of whimsically familiar sewing shapes, coming in a multitude of weaves and vibrant colors, shining a light on Filipino craftsmanship. "Stitch" was this year's unifying theme for DesignPhilippines, conceptualized by Nazareno/Lichauco, and infers various joining and mending techniques — mirroring traditional stitching and sewing methods.

Gearing Up for Global Orders
In the Philippines, designers and artisans have reimagined lamps and light fixtures to give a new meaning to the word "natural lighting." From accent lighting to pendant lamps, these statement pieces—will easily be the focal point in any room.
This year, DesignPhilippines is working with Patti Carpenter, an award-winning designer in globally-sourced home decor, with experience in product design and development. Through an international business development program, Carpenter is guiding 19 brands, preparing them for the global market.
Expect unique designs and skilled craftsmanship from the following lamps and lighting brands that are part of the program:

LAMPS AND LIGHTING
Discover items fit for a contemporary lifestyle while incorporating native materials such as buri midrib, coconut twigs, arurog vine, and abaca for an organic feel at Hacienda Crafts Company.
Explore a world of color and light with the use of natural materials and a bright, contemporary aesthetic at LIJA by That One Piece.
Find home accessories that feel both modern and organic while applying sustainable and ethical practices at Indigenous.
From steel and wood to natural materials like capiz shells and fibers, find bold pieces made with indigenous materials at Venzon Lighting.
Discover Furniture and Home Decor pieces from Design Philippines.