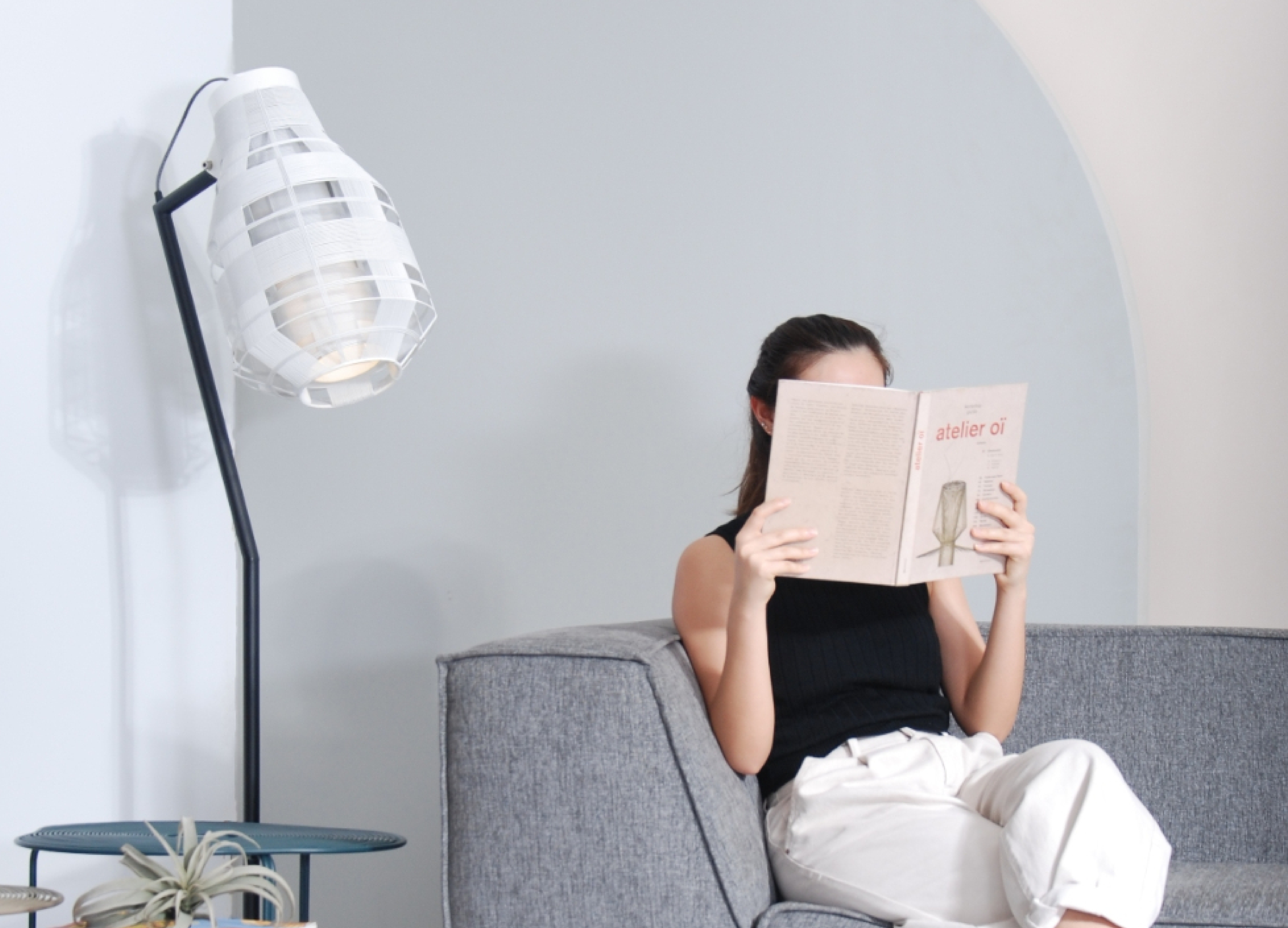 Design Solutions for New-Generation Work Spaces
The challenge of remote work setups? Making space, setting boundaries, and finding time for productivity and rest


by Patti Sunio

Happening now at Maison & Objet and More (MOM), the French trade fair's digital platform, is Digital Days, bringing to the fore the best finds in craftsmanship and design from all over the world. The series runs in eight editions, under the themes Unexpected Gift, Trendy Déco, Well at Work, Craft Métiers d'art, Outdoor Living, Sustainable, Premium Design, and So French.
Digital Days is now on its third week, and its theme, Well at Work, is one that's most apt to our times. Transitioning to remote work setups, our first task was to repurpose spaces at home. For some, bedrooms, living rooms, and dining areas doubled as spaces for school and work.
Setting boundaries, literally and figuratively, became all the more necessary, as office hours crept into meditation hours, and family members seek our attention regardless of whether or not we're in study or work mode.
And the more we optimize our homes to make it conducive for productivity, the more we realize our need for spaces to breathe, and ultimately, rest and reflection.
This week's theme, Well at Work, is a testament to what new-generation work spaces stand for, and explores design solutions that help restore a healthy work-life balance at home.
1. Bullet Floor Lamp, SCHEMA
A floor lamp for lightbulb moments. The Bullet Floor Lamp features a design that mimics layered strings and fabrics. It comes with a steel base, a fabric diffuser, and metal wire.
2. Easy Armchair, NATURE'S LEGACY
Create a space that encourages ideas to flow freely. This armchair, made from a combination of NATURESCAST® material and marmorcast from high-quality polymer, fits just right into a cozy corner or an inviting reading nook.
3. Diagonus Bar Cart, E. MURIO MANILA
For when you need brain food within arm's reach, indulge in this beautiful bar cart. Alternatively, you can use it as a portable caddy for your work files, books, and magazines for inspiration.
4. Nautilus Clock, VENZON LIGHTING
Keep track of your working hours and remember to log out, too. The Nautilus Clock is made from wood, metal, aluminum, and acrylic with LED strips.
5. Araling Upuan Pammatanda, JUNK NOT
It's never too late to learn about the environmental effects of one's purchase. This study chair's wooden frame is made from reclaimed wood pallets, while the seat is woven from plastic waste and tetraPak boards.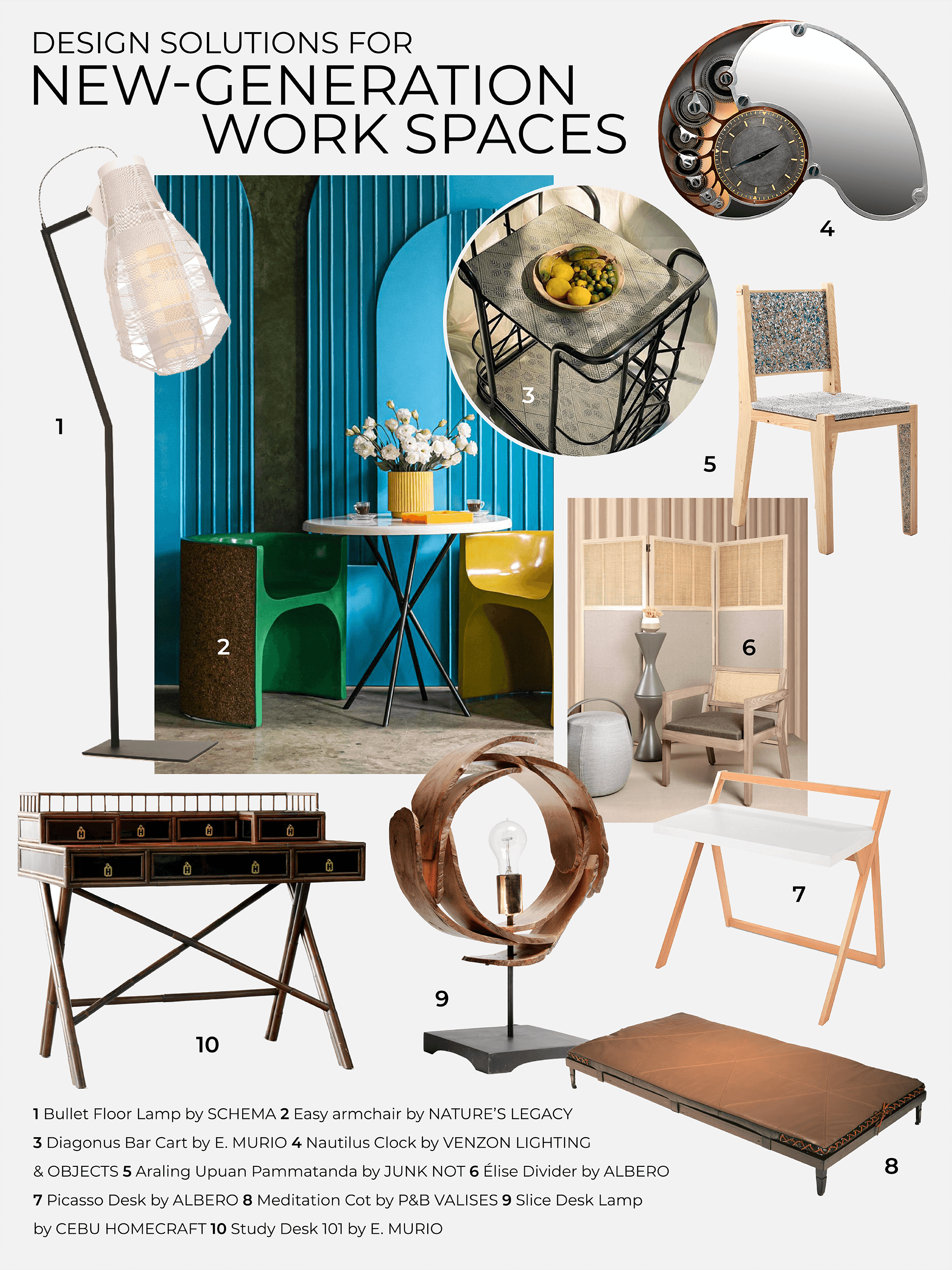 6. Élise Divider, ALBERO
Physical boundaries can help you focus more, especially when you're with family members who each have to work or study remotely, too. Define spaces with dividers, such as this one made from hardwood, rattan mesh, and fabric. It's a wall accessory as well as a functional addition to a multi-purpose room.
7. Picasso Desk, ALBERO
A desk that's likewise a piece of art, this table is meant for creative work. Its clean and angled lines allow plenty of space for arts and crafts.
8. Meditation Cot, P&B VALISES
Dedicate time and a space for mental breaks. This meditation cot is made from putty gray leather cushion, which features a black leather trim with red burma leather laces, and set in a solid mahogany wooden frame with black iron legs.
9. Slice Desk Lamp, CEBU HOMECRAFT
Made from driftwood, this desk lamp adds character to your work space.
10. Study Desk 101, E. MURIO MANILA
A sleek work desk should be enough motivation to get you into work mode. Purely handmade from rattan, with the table top and side areas in laminate, this study desk has a spacious work area and multiple drawers to organize your essentials.
Discover more design ideas for work and wellness on MOM (Maison&Objet and More) at mom.maison-objet.com or browse through our catalogue.