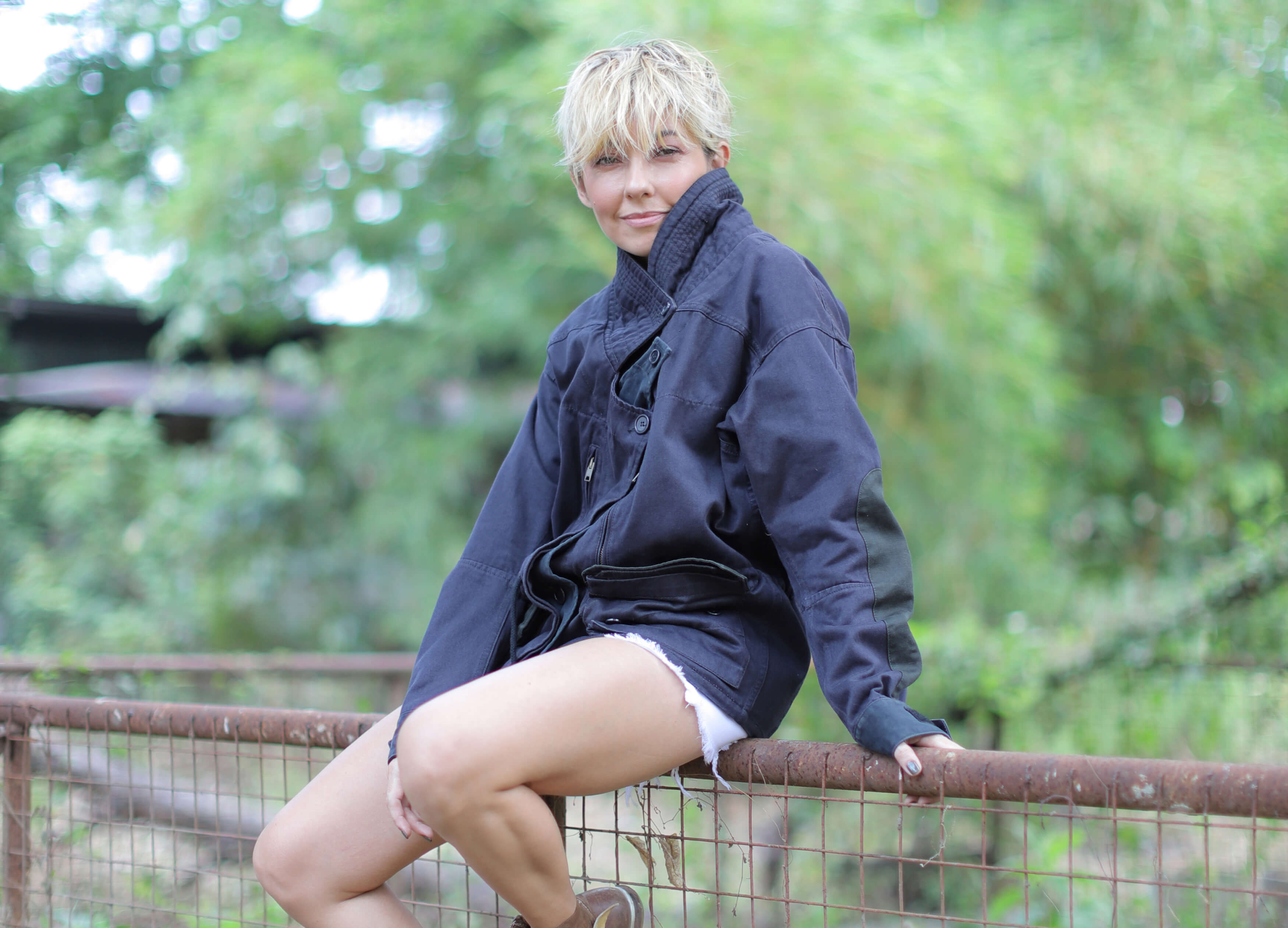 Connecting Passion with Purpose
Hindy Weber advocates for a more holistic and conscious approach to living, and she's ready to take on the challenges that come with it

by Vicky Montenegro
Hindy Weber has been living what many of us now consider the "new normal" way before the pandemic hit.
For more than 10 years—since 2007 to be exact—she has been out of the city and in her farm in Laguna, where she and her family have adopted slow and purposeful living. "It changed our priorities and helped us zone in on the essentials," she says. "We also felt more connected to the rhythm of nature like waking up when the sun rises or keeping artificial lights low past sunset. We are also keenly aware of the boundless provisions nature provides—from food to medicine to recreation."
It only makes sense that when she talks about her farm life, Weber talks about her family mostly. After all, her family's health and well-being determined their move outside the concrete jungle that is Manila. "To this day, most of my time goes to them," she admits.
But family is not the only thing keeping Weber busy. Ever since their move, she's managed to grow successful brands from her idyllic farm—even though creating businesses out of their new haven didn't exactly happen by design. "My husband and I are both entrepreneurs," she shares, "so it was just a matter of time we embarked on something that suited our life out of the city."
Her first venture was Holy Carabao, where, together with her partner Melanie Teng-Go, they practice holistic farming inspired by organic, biodynamic, and permaculture principles. And more recently, she launched Hindy Weber Every.Day, her slow-fashion and lifestyle label. Her return to fashion—many know Weber as a fashion and private label designer—excited those who loved her ready-to-wear designs and custom evening wear pieces.
"To be honest, I thought I would never go back to ready-to-wear," she shares. "I thought it would not be possible to comply with ecological principles and do a full collection." But fashion must really be Weber's métier and true calling because, as she puts it, "the stars aligned" and she came across the right suppliers. "I found the right fiber-growers, dyers, textile shops, and manufacturers that made the collection possible. It happened so fast I couldn't believe it. I think everything just worked because I knew exactly what I wanted but I wasn't attached to an outcome either. If it worked, great. If it didn't, fine. Nothing was forced."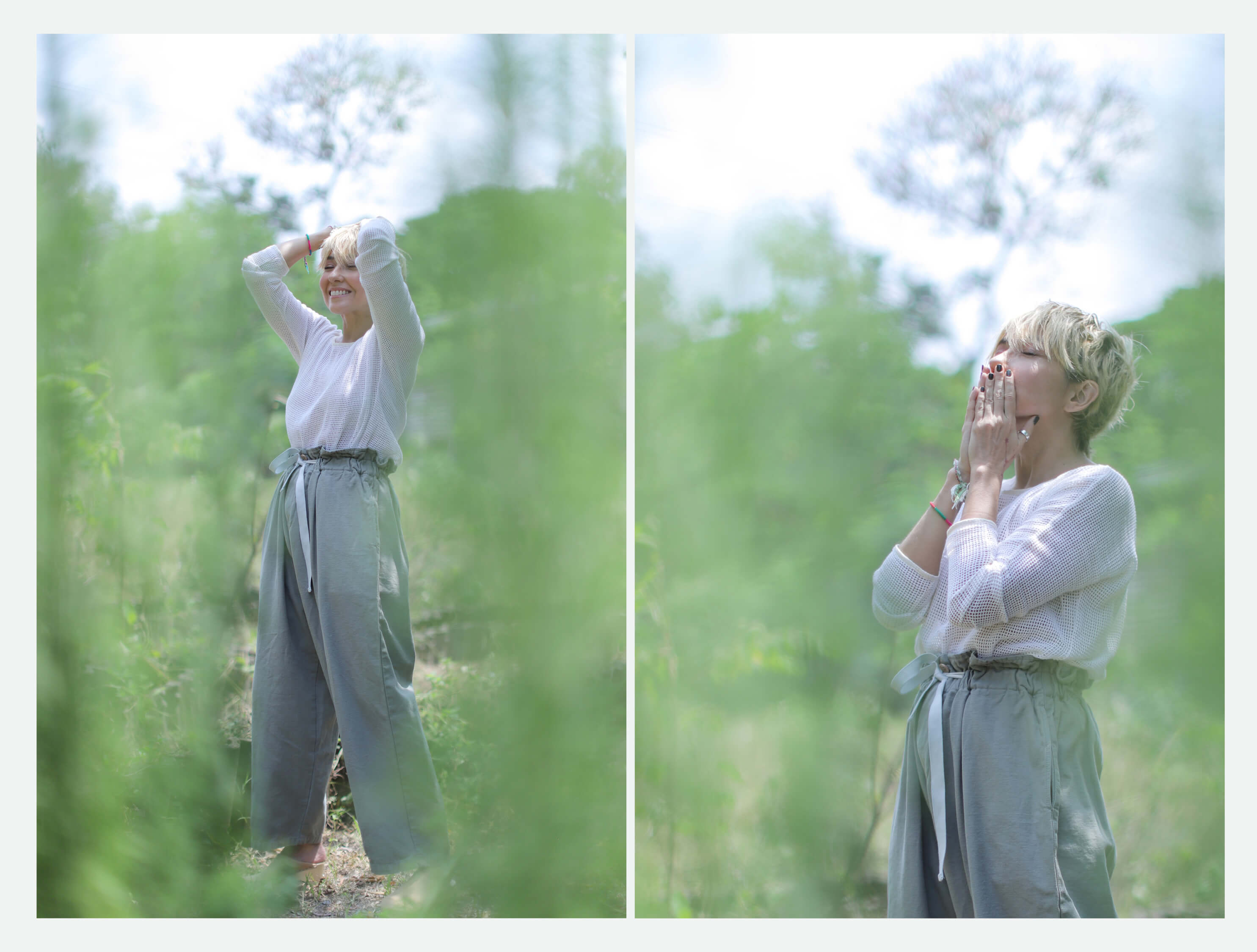 Hindy Weber co-founded, along with Melanie Teng-Go, Holy Carabao, which commits to growing healthy food devoid of GMOs, synthetic pesticides, fungicides, and chemical fertilizers. More recently, she launched a slow-fashion brand, Hindy Weber Every.Day. Here, she wears a net top in natural cotton from her brand
How everything came together so effortlessly also aligns with the brand's ethos. Everything about Hindy Weber Every.Day is uncomplicated and sincere. "It isn't just another trendy collection or even an expression of my ideas," Weber explains. "It is really a simple presentation of a new alternative to dressing up. That's why I called it 'Every.Day'—for me this is an approach to style that you could live, play, work, and sleep in every day."
The brand has also given birth to a beauty line. Weber wanted a fuss-free beauty regimen that went with her holistic lifestyle. "I wanted a simple regimen that I could use at home that would manage my beauty needs without adding toxins into my system or the environment." The initial product lineup includes something for the face (an antioxidants-rich healing face oil), eyes (a restorative overnight eye balm), skin (a glow stick that leaves a sunkissed tint on lips and cheeks), and sex (a lubricating love butter with arousing aromatic essenses). "I found the perfect formulator in Ana Gutierrez of Body Food," Weber shares. "But it took a good year to perfect the formulations, scents, and safety. Ana and I clicked instantly. Nothing lost in translation because we already both know what matters most to us."
She plans on expanding the lineup to include hair oil, sunscreen, toothpaste, and so on… but every product will mirror Weber's beauty routine, which she tries to keep "as natural as possible." And for Weber, keeping it natural also means keeping it real and gracefully accepting the process of aging. "I just have to learn to embrace my aging, including the new sagginess, wrinkles, and spots," she says. "Thankfully, there are so many older models and influencers now who inspire me to keep it natural. Often we praise those that look impeccable and youthful even in their advancing age. But I'm learning that it's even harder to keep it natural. It makes you really come to terms with who you are. It teaches you how to embrace changes, how to let go, be comfy in your own skin, be proud of who you are without feeling the need to look young for others' satisfaction."
"Still," she adds, "I am also trying to spend more time exercising as my body has changed so fast in the last few years due to hormones and aging, maybe? I felt weaker and softer. I want to build stronger muscles and become more flexible."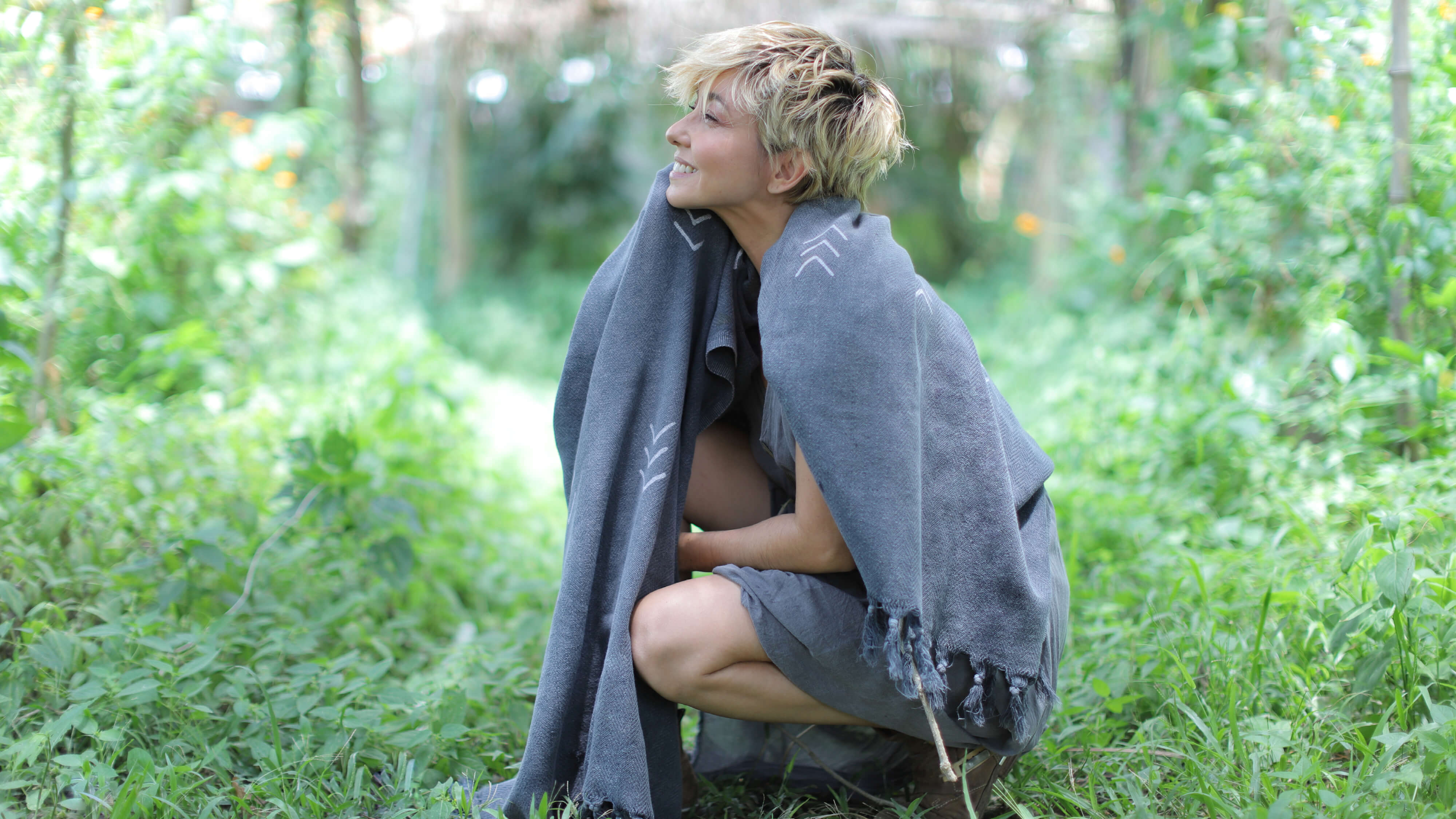 With Hindy Weber Every.Day, Weber launched a beauty and fashion line (she's wearing a gray dress from her collection), with each product aligned with her holistic living advocacy
ACCEPTING LIFESTYLE CHANGES AND CHALLENGES
It seems that Weber's instinct is to face any challenge head-on. At the peak of the pandemic and during the months in lockdown, Weber shared thoughtful—and thought-provoking—posts on social media. "I have become a medical and political researcher," she laughs. "That's what this crisis has taught me: dig deeper, research, ask questions, keep learning, listen, sleep, repeat. I feel it's my duty as a mom to provide the widest perspective for my children. I want them to feel equipped, informed, able, and most of all, to act from their innate power, love, and courage—not fear."
And so it is without fear that Weber is continuing her advocacy for a more holistic and radically conscious approach to living—everything from what we eat, wear, purchase, use, consume, and create. She is the first to admit though that living—and, especially, creating for—the lifestyle that she champions comes with challenges, including "having to deal with institutions, businesses, and a government who not only do not support our efforts, but who make it more difficult."
"At home or in our businesses, we carry the greater burden of higher costs or expenses, and less accessibility or distribution," she laments. "It is easier to just follow the norm because our society, our cities, structures, and institutions are built that way. The question is WHY should it be harder for us? Shouldn't the citizenry be encouraged or rewarded when they do their part for the poor or the environment? Even tax breaks would be great. How about a kind of currency that gives value to beach clean-ups, buying or growing organic food, planting trees, using less energy, and doing community work?"
Still she encourages those who, like her, are fighting the good fight and choosing to do things the hard way, including artists, designers, and manufacturers who choose to create with sustainability and the environment in mind. "Keep connecting to your WHY. Environmentalism is the biggest trend. But let's get real, the industry is not built to make it easy or cost-effective. When things get challenging, connecting to our core values brings us back on track and bridges those moments when we just want to surrender to the economic pressures. Money comes and goes, but your integrity and reputation are very hard to rebuild once they've been broken."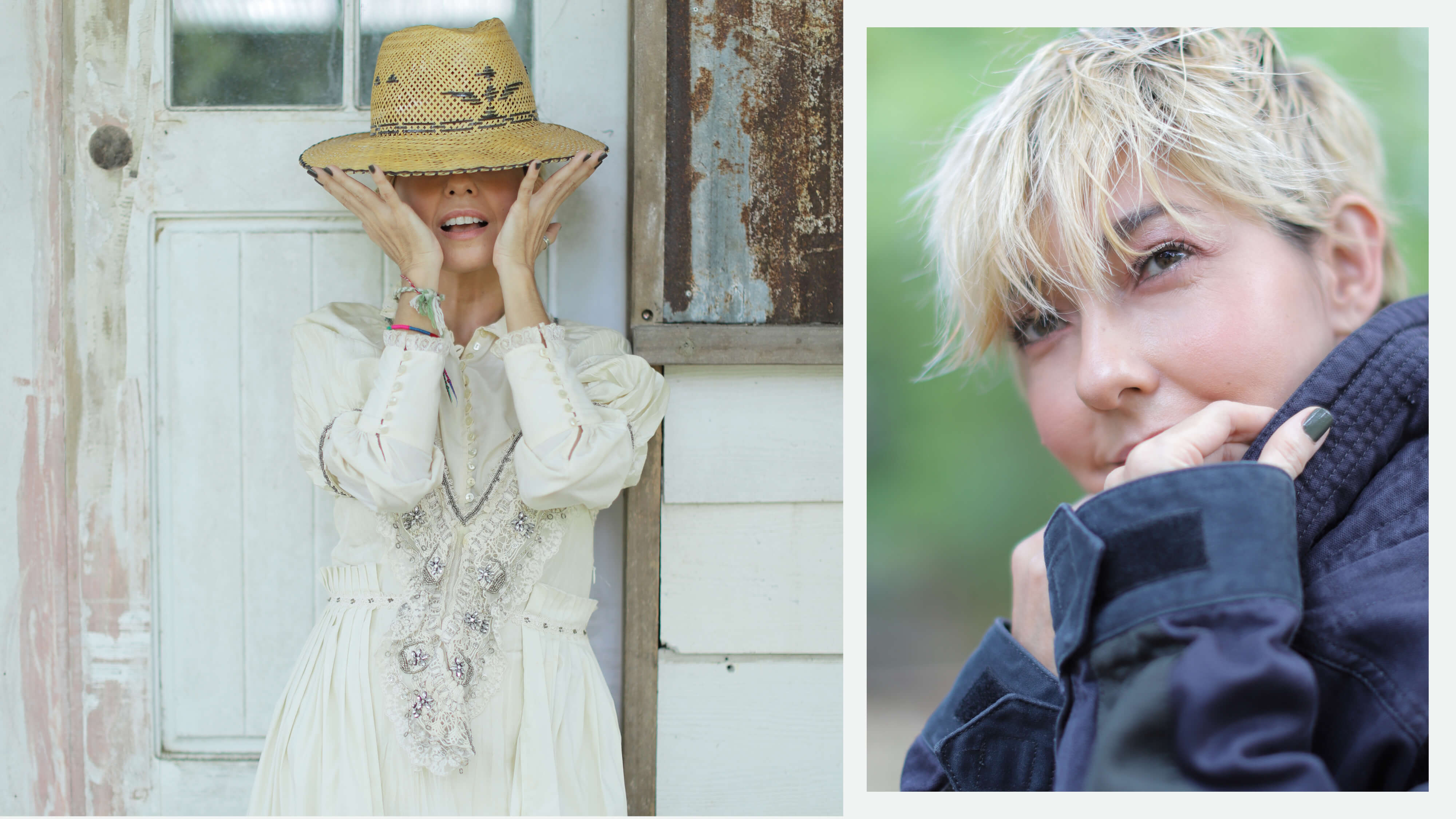 As far as beauty procedures are concerned, Weber keeps it as natural and as minimal as possible. "I am treating melasma though so that requires some stronger ingredients from my derma. I do conservative laser treatments for that. I always toy with the idea to do stronger procedures but I get scared at the last minute."
In line with her advocacy, Weber would love "to see an agricultural industry in a symbiotic relationship with the design industry." "That's so we have access to textiles and materials that are deeply rooted in sustainability and regeneration," she explains. "This means going a few steps back in the process of production to the point of soil, seeds, water, air, farmers—even before fabric mills, dyers, sewers, manufacturers, embroiderers, beaders. After that, we must consider the end-of-use or disposal of the product. It is working with the entire life cycle. I used to only go as far back as fabric suppliers. Now I go all the way back to the seeds, the soil, the farmers. Everything is considered."
"So imagine putting my products on sale during the crisis of 2020," she adds. "Broke my wallet, but broke my heart more."
And what does she reckon she will be tackling in the near future? "I never make 5-, 10-, or 15-year plans," Weber says. "Perhaps that's why my growth has never followed a straight path. Sometimes I am forced to be more organized and strategic, and it always bites me in the butt. So I've learned that it's not for me. My heart always leads the way."

FAME+ SELECTIONS BY HINDY WEBER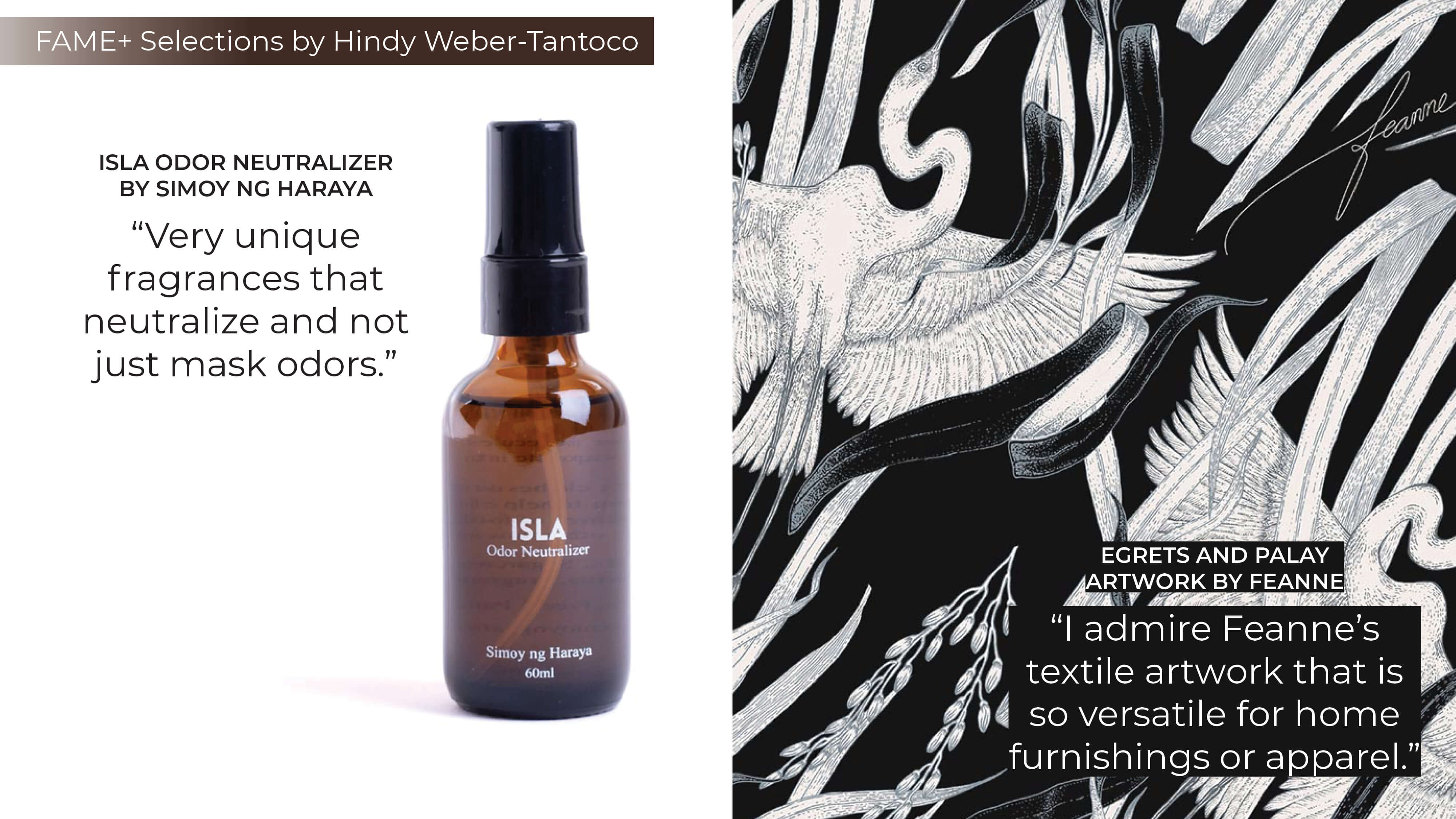 Isla Odor Neutralizer, SIMOY NG HARAYA: "Very unique fragrances that neutralize and not just mask odors. Great to take in your purse for spritzing public restrooms, the car, hotel rooms, or just in your own bedroom for a fresh pick-me-up."
Egrets and Palay Artwork, FEANNE: "I admire Feanne's textile artwork that is so versatile for home furnishings or apparel. I'd love to turn it into retro sportswear."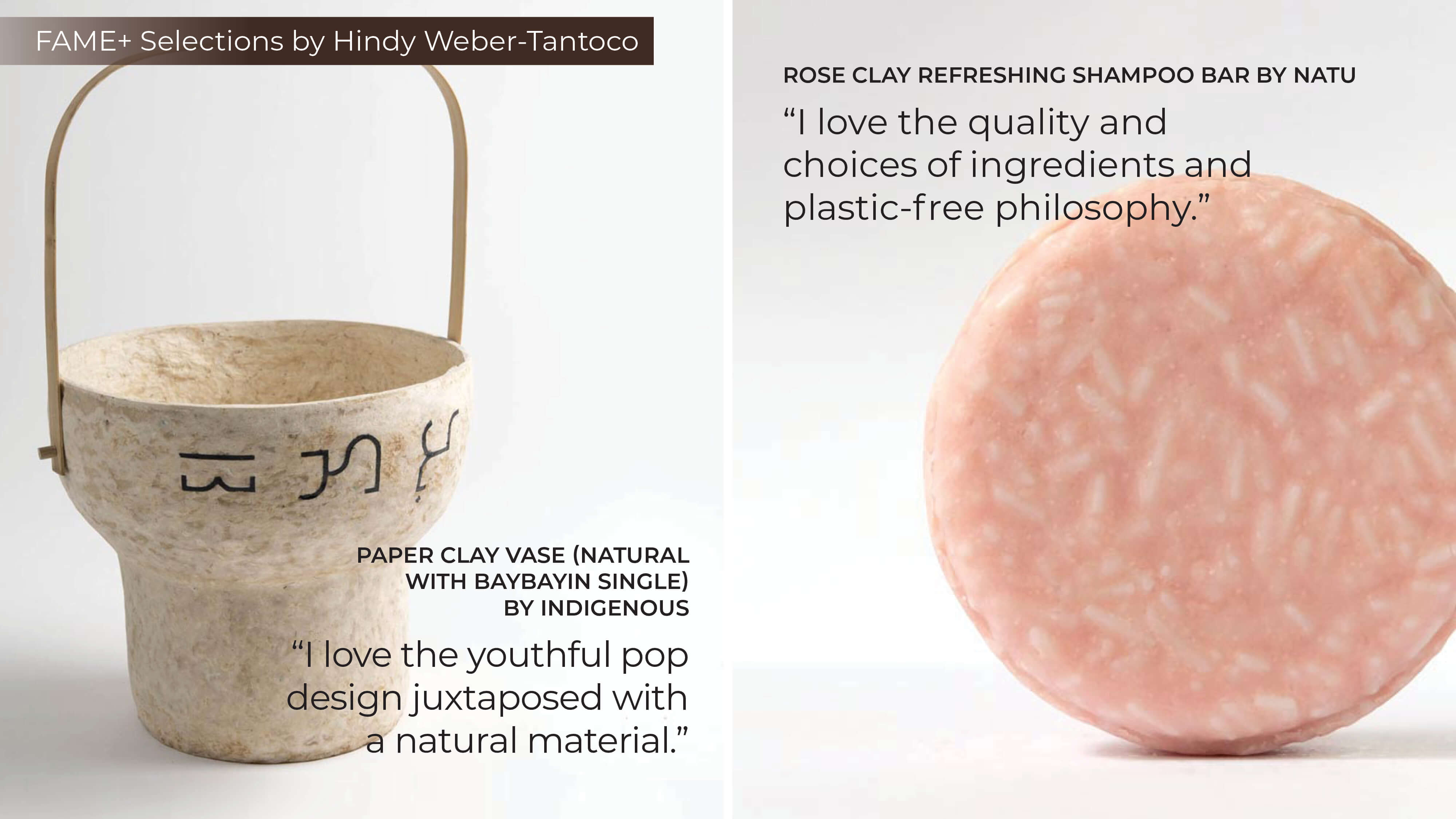 Paper Clay Vase (Natural with Baybayin Single), INDIGENOUS: "I love the youthful pop design juxtaposed with a natural material. I am also learning Baybayin and think it should be promoted more."
Rose Clay Refreshing Shampoo Bar, NATU: "I love the quality and choices of ingredients and plastic-free philosophy."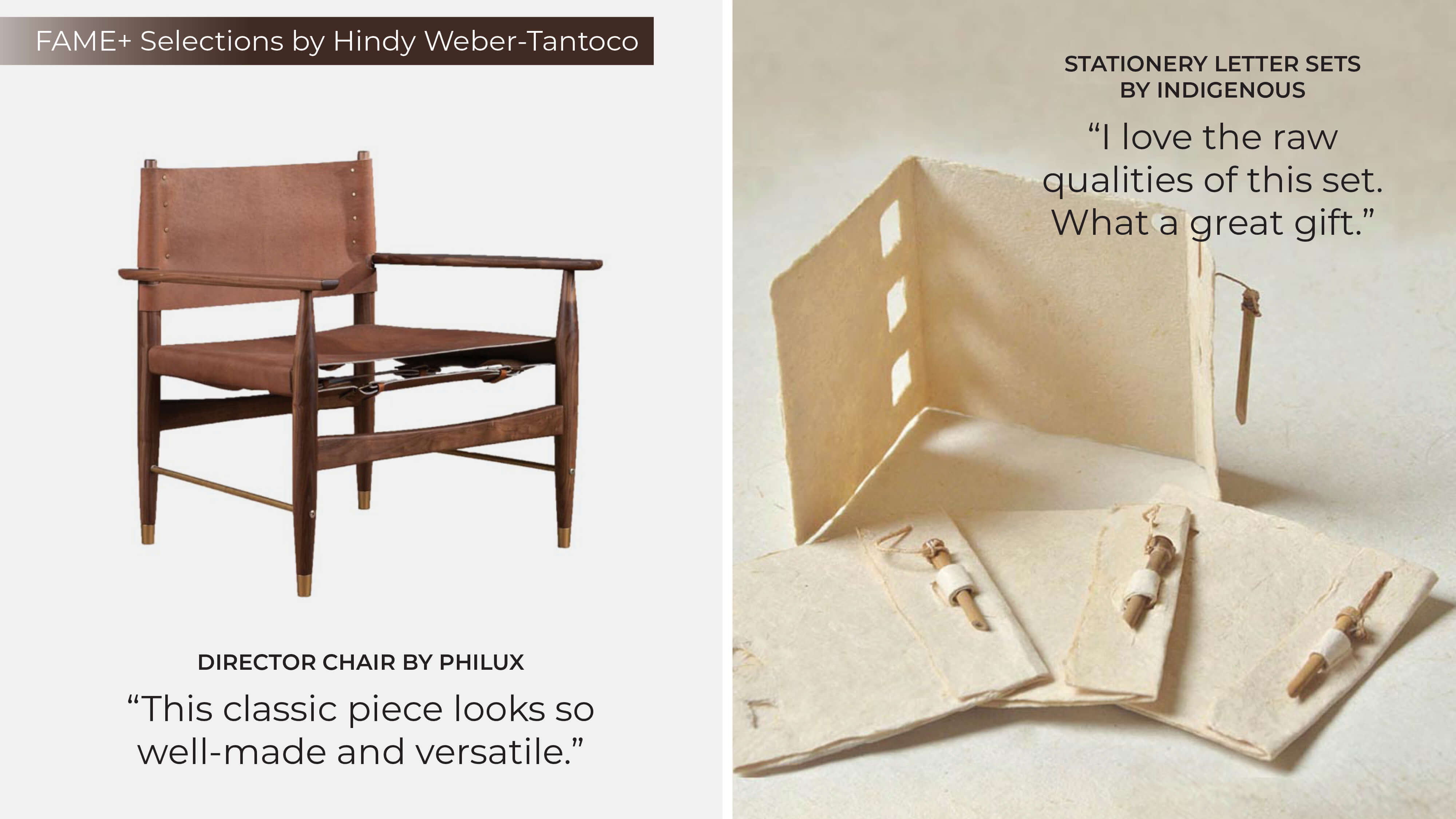 Director Chair, PHILUX: "This classic piece looks so well-made and versatile. I can use it indoors, or even for an impromptu picnic at the farm."
Stationery Letter Sets, INDIGENOUS: "I think stationery should never be taken for granted. The quality of pen and paper one uses speaks a lot of oneself. I love the raw qualities of this set. What a great gift."

Miggy Table Lamp, NATURE'S LEGACY: "I love the color, proportions, material, and overall containment of the design. It makes me feel like I'm in Paris or Moscow in the 1920s."
Mosa-Eco Cocktail Table, VITO SELMA HOME: "Love the Brutalist design and ecological principles. I imagine it can match an almost-ratty super comfy sofa but also a sleek velvet pink sofa."
Photography Cyrus Panganiban
Art Direction Kit Singson