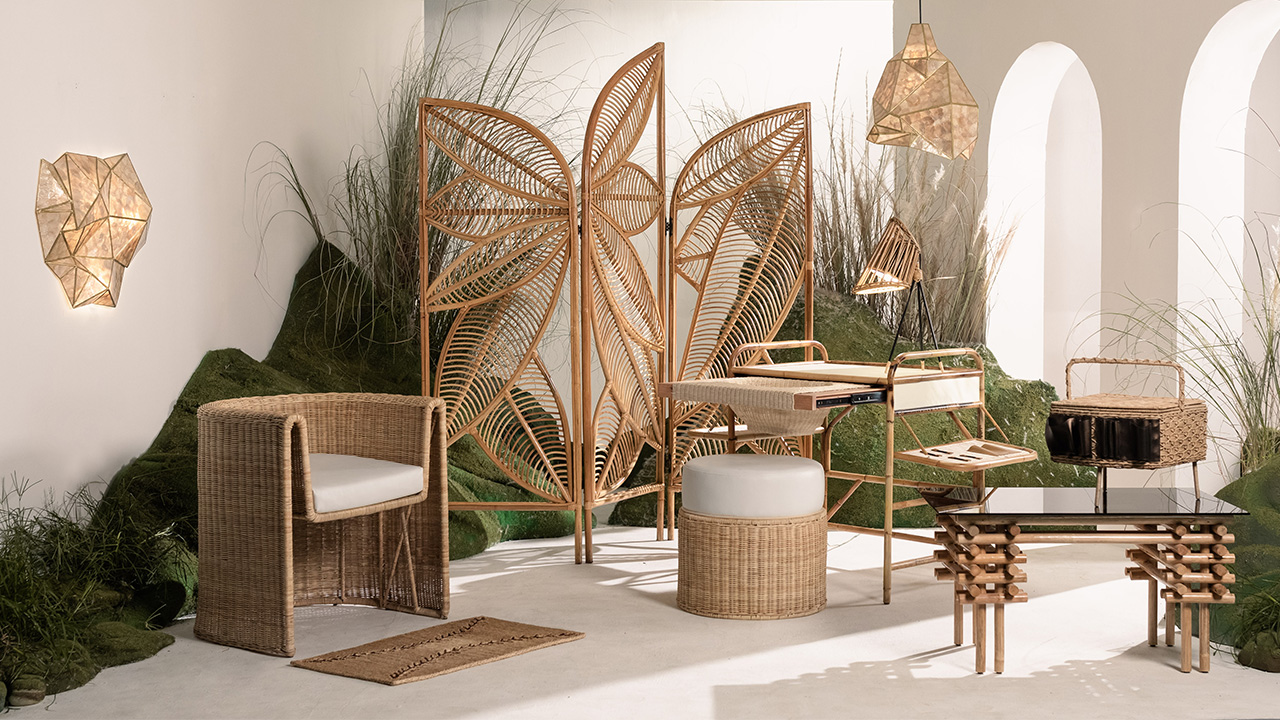 Choose Sustainable Home Furnishings with Beautiful Pieces from DesignPhilippines
Great design following the principles of sustainability.
Producing furniture and decor that is sustainable and eco-friendly also means creating pieces that are meant to last for a long time and not clog a landfill in just a few years' time. Eco-friendly furniture means less pollution and waste in production.
DesignPhilippines has taken this idea to heart with companies that upcycle scraps into wearable fashion, establishing circular production within communities, and even creating innovative materials that fit sustainable principles of recycling, biodegradable, ethical, and communal.

Going Green from the Grassroots
In the Philippines, more and more companies strive to create sustainable businesses. Manufacturing has the two-fold goal of producing products fit for the global stage, and empowering and uplifting the lives of indigent communities through a dignified means of livelihood.
The aesthetic for sustainable decor and furniture has progressed from more natural and organic shapes and hues. Expect to see unique styles that are updated with new trends and colors and made with the skilled artistry that shows off local techniques.

Gearing Up for Global Orders
This year's unifying theme of "Stitch" was conceptualized by Nazareno/Lichauco. The theme explores various methods of stitching, joining, and mending.
DesignPhilippines is also working with Patti Carpenter, an award-winning designer in globally-sourced home decor, with experience in product design and development. Through an international business development program, Carpenter is guiding 19 brands, preparing them for the global market.

Sustainable Furniture and Decor
A fashion and design house empowering community artisans from the Philippines, find bags, clothing, and home furnishings made with upcycled fabrics at R2R.
The rustic and tropical feel of abaca juxtapose nicely with the modern designs of bespoke rugs from Weavemanila Inc.
The creation of sustainable lamps and lighting, tabletop, accent furniture and home decoration is elevated with the use of indigenous natural materials, traditional artisanal skills at Hacienda Crafts Company.
Natural fibers intricately hand-woven using traditional techniques and sustainable materials are used to create home accessories, lighting, and soft furnishings by the artisans of Mindanao.? Find out more at Tadeco Home.
Find stationery and home accent pieces are made from natural resources like Abaca fiber, pineapple leaves and wild grass. 100% tree-free or 100% earth-friendly? at Indigenous.
This home decor manufacturing company combines the bright and modern with organic tactile features while following the basic principles of sustainable furniture: recycled, biodegradable, ethical and communal. Find out more at Nature's Legacy.
Ingenious woodwork made from local acacia wood is intentionally crafted for the home with an eye towards design excellence with sustainability. Find out more about Lapekto Lapel.

Discover Furniture and Home Decor pieces from Design Philippines.
Discover Lamps and Lighting pieces from Design Philippines.