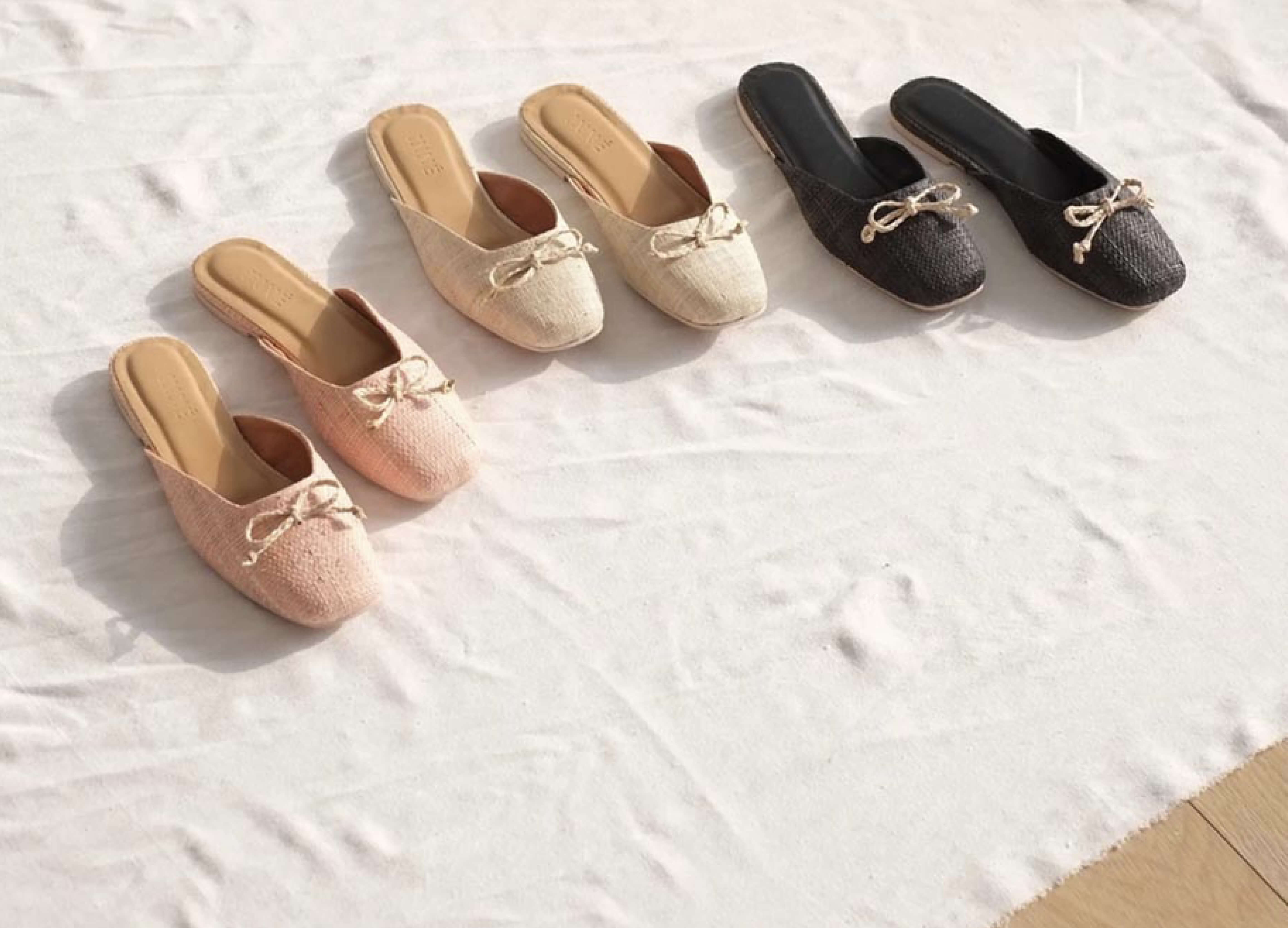 Best Footwear Forward
When unpredictable times call for unpredictable measures, local shoe designers don't scrimp on creativity and go big on imagination
by Patti Sunio
In a time plagued by a pandemic and with hardly any reason to head out—and wear shoes—Filipino designers continue to keep the footwear market alive and kicking. The secret is tracing their steps and going back to what they do best: crafting with hands that have mastered the skill for years, experimenting with available materials in new ways, embracing novelty and the ever-changing times, and, most of all, designing with a heart and that unmistakable Filipino pride.
Find below our best footwear picks from the FAME+ catalogue:
BIG LEAGUE
Whether it's heavy, chunky sneakers or sharp-looking, handcrafted brogues you're in the mood for, turn to these brands that have boldly stepped out of the norm in crafting unique shoe designs that go the extra mile. Think: classic brogues adorned with a delicate painting and casual sneakers made from upcycled materials.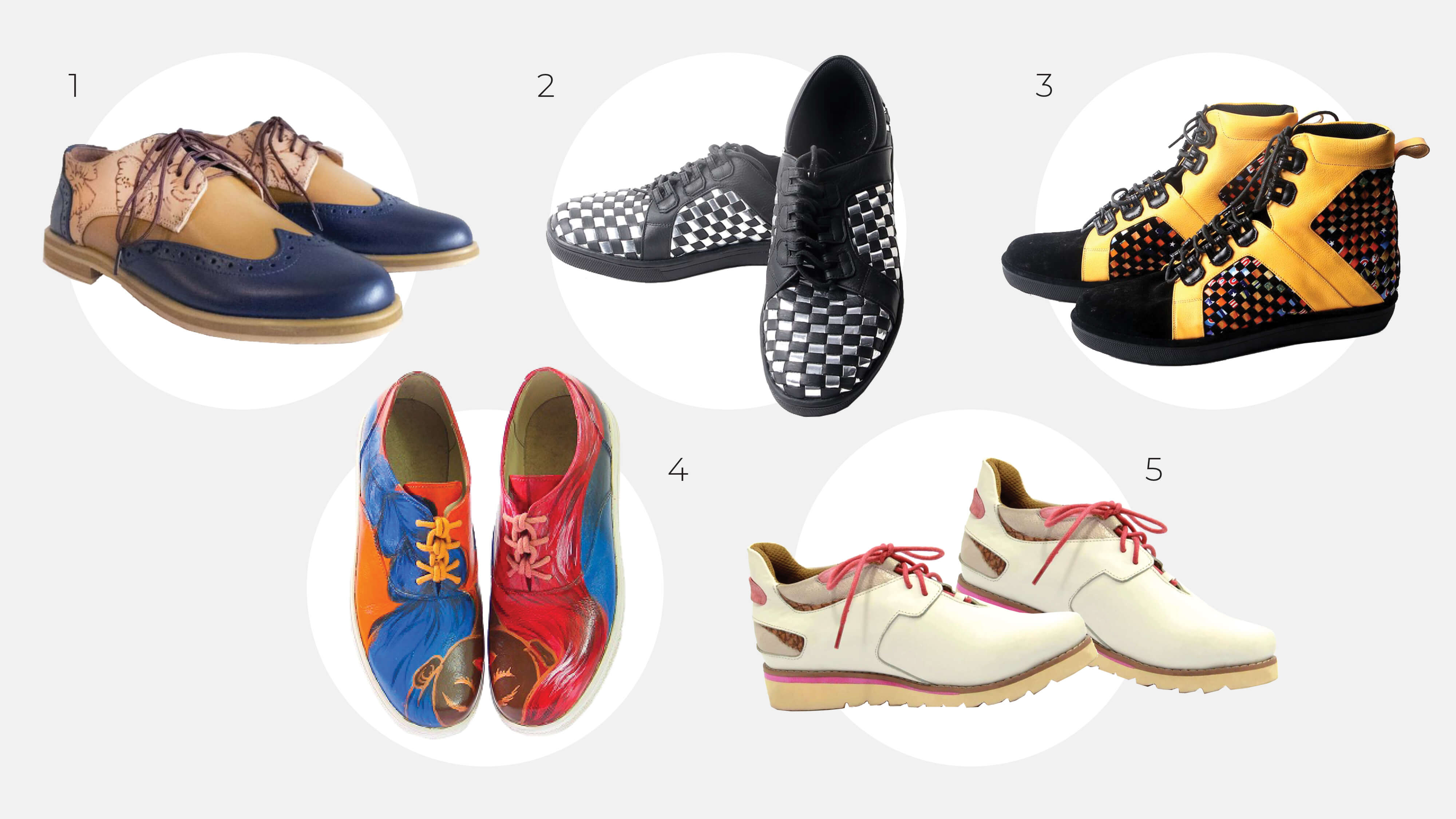 1) Bubbles Derby, STRIDE COLLECTIVE. Stylish brogues, handcrafted and hand-etched with a gumamela or "hibiscus" flower. 2) LALAPATOS (Gray / Silver), MACO CUSTODIO. Unique and versatile, this statement pair can be worn on both casual and dressier days. 3) LALAPATOS high cut (orange), MACO CUSTODIO. Crafted from leather, woven foil, and rubber and made by shoemakers in Marikina, the KABALIKAT community in Baseco, and weavers in Rizal. 4) LDR, MARA PIÑON. Called LDR (short for 'Long Distance Relationship') because it's only when the wearer stops walking—and both feet are aligned—that the face-painted designs on the shoe can finally "kiss." 5) On Top Of U, MARA PIÑON. This bright and frisky round-toe sneaker adds a spring to your step.
WOVEN STEPS
Philippine textile finds its way onto footwear, woven into mules, espadrilles, and slip-ons. The result? Casual pairs that go with jeans or a summer dress, each one boasting handmade details by our local weavers.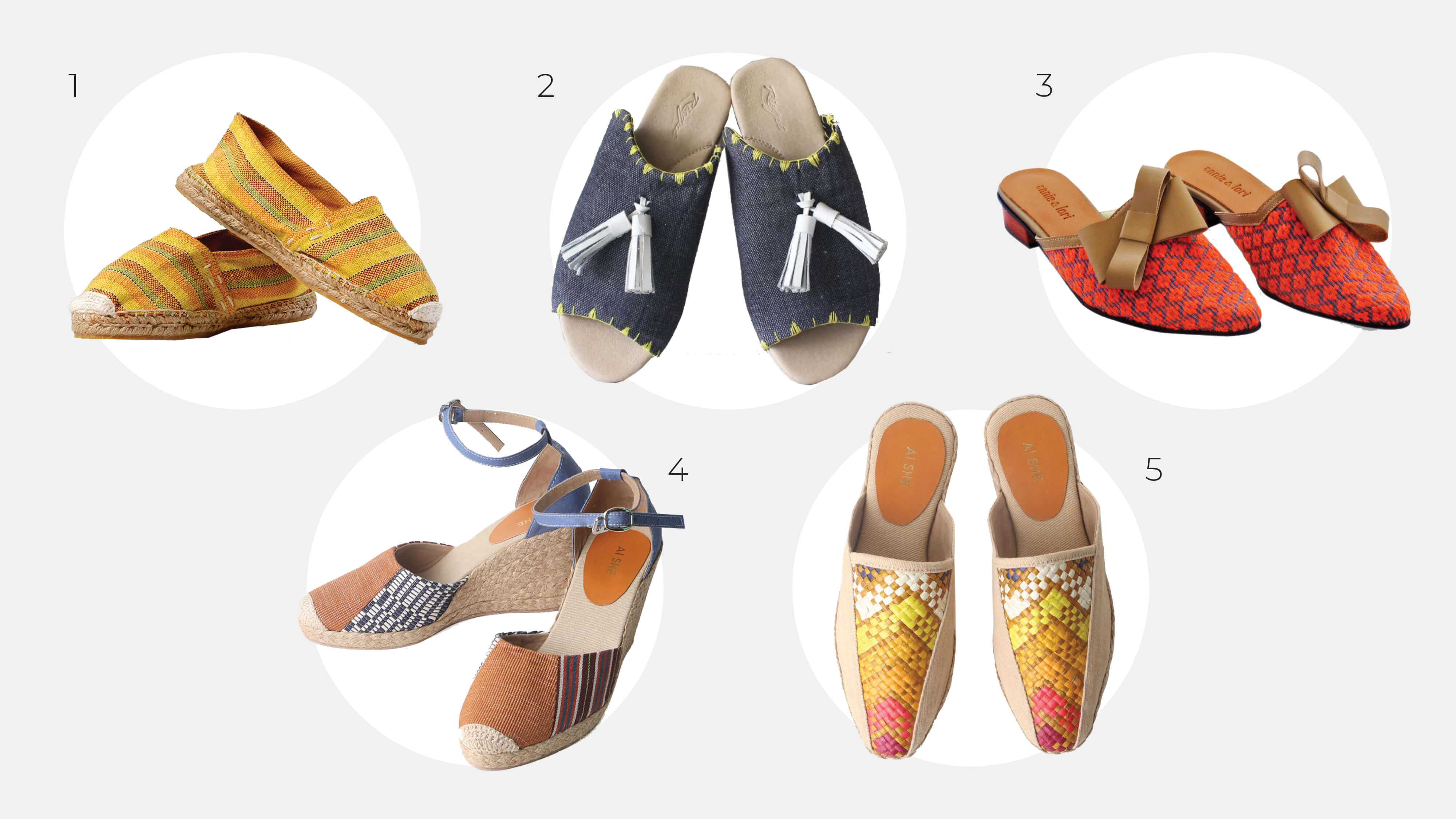 1) Espadrille, LA BON VIE ENTERPRISE. Sunny espadrilles made of inabel or handwoven cloth made by weavers from the Cordilleras in Northern Luzon, in a pattern called "Kantarines." 2) Joey Slides, STRIDE COLLECTIVE. Its upper sole is made of handwoven denim fabric upper sole, accentuated with a unique embroidery by the Tingguian community in Abra. 3) Meghan Inabel with Ribbon in Orange, ANNIE AND LORI. The brand's popular mules with woven inabel get a style update with added leather ribbons. 4) Shiela, AISHE FASHION. Wedge heels adorned with colorful textiles made by different artisan groups. 5) Banig Slip-on (Multi-colored), AISHE FASHION. Casual slip-ons made of canvas and banig or "woven mat."
LEATHER BOUND
Leather shoes can both be an ever-reliable classic or they can give your outfit some extra edge. Here, trusty leather is reimagined into trendier renditions: cut into fancy fringes or combined with solihiya.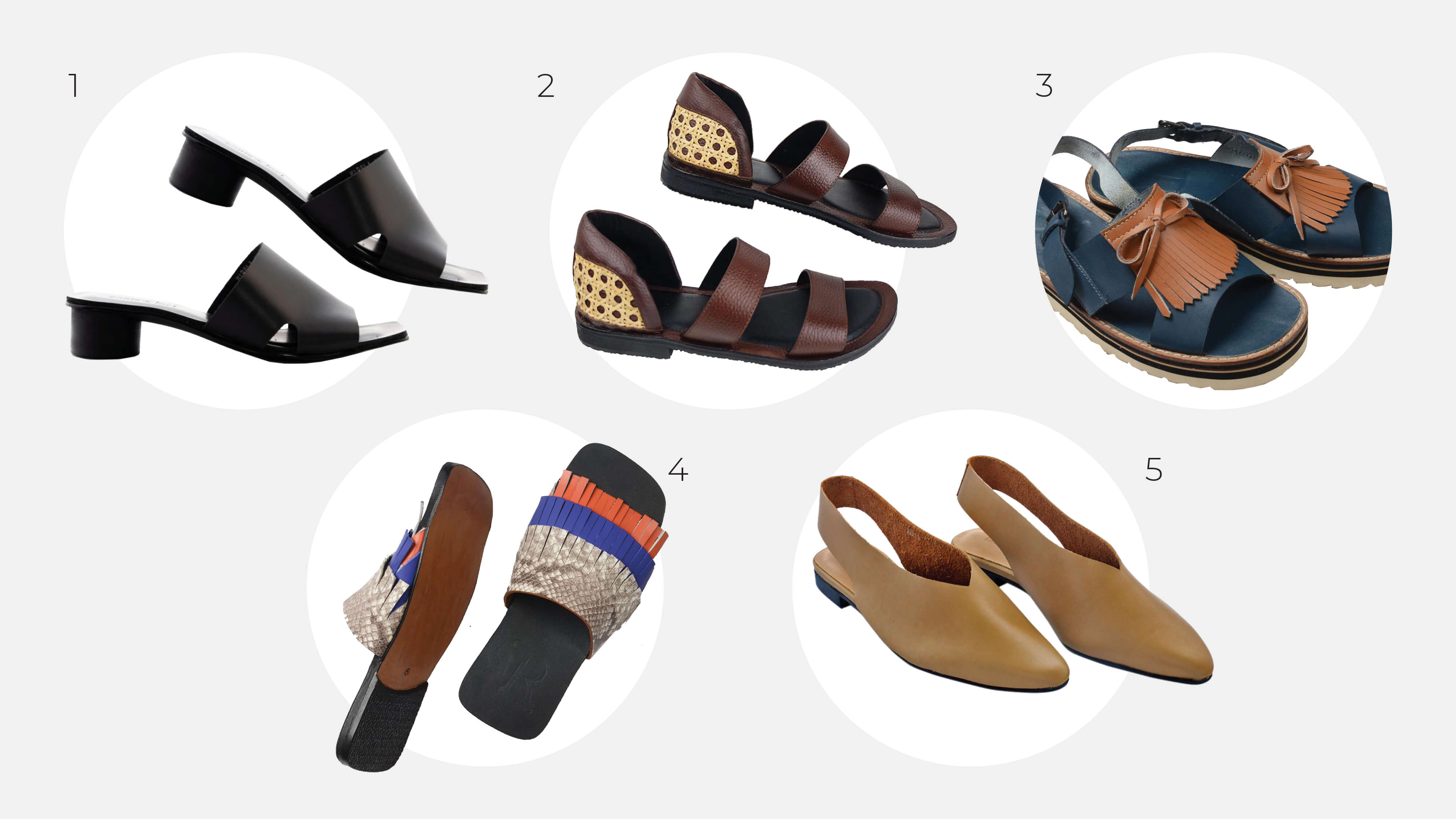 1) Nicola the Modern Bakya in Black, ANNIE AND LORI. Here's a modern version of the traditional bakya or "wooden clogs," also known as the Philippines' national footwear. 2) Solihiya Sandals, ORIAS Studios. A half-shoe, half-sandal design made of cowhide leather and with a rattan solihiya weave for added texture. 3) The Riley in Blueberry, RAMIR. Sturdy sandals in a chic color and handcrafted fringe leather details. 4) Bella in Bone, ANNIE AND LORI. Basic but better: a classic pointed-toe pair for any occasion. 5) The Quinny, RAMIR. Unisex slides with tri-color leather fringes.
NATURAL MATERIAL
Natural materials abound on our islands—and on our footwear. Indulge in these pairs made of raffia fiber, jute, abaca, and more.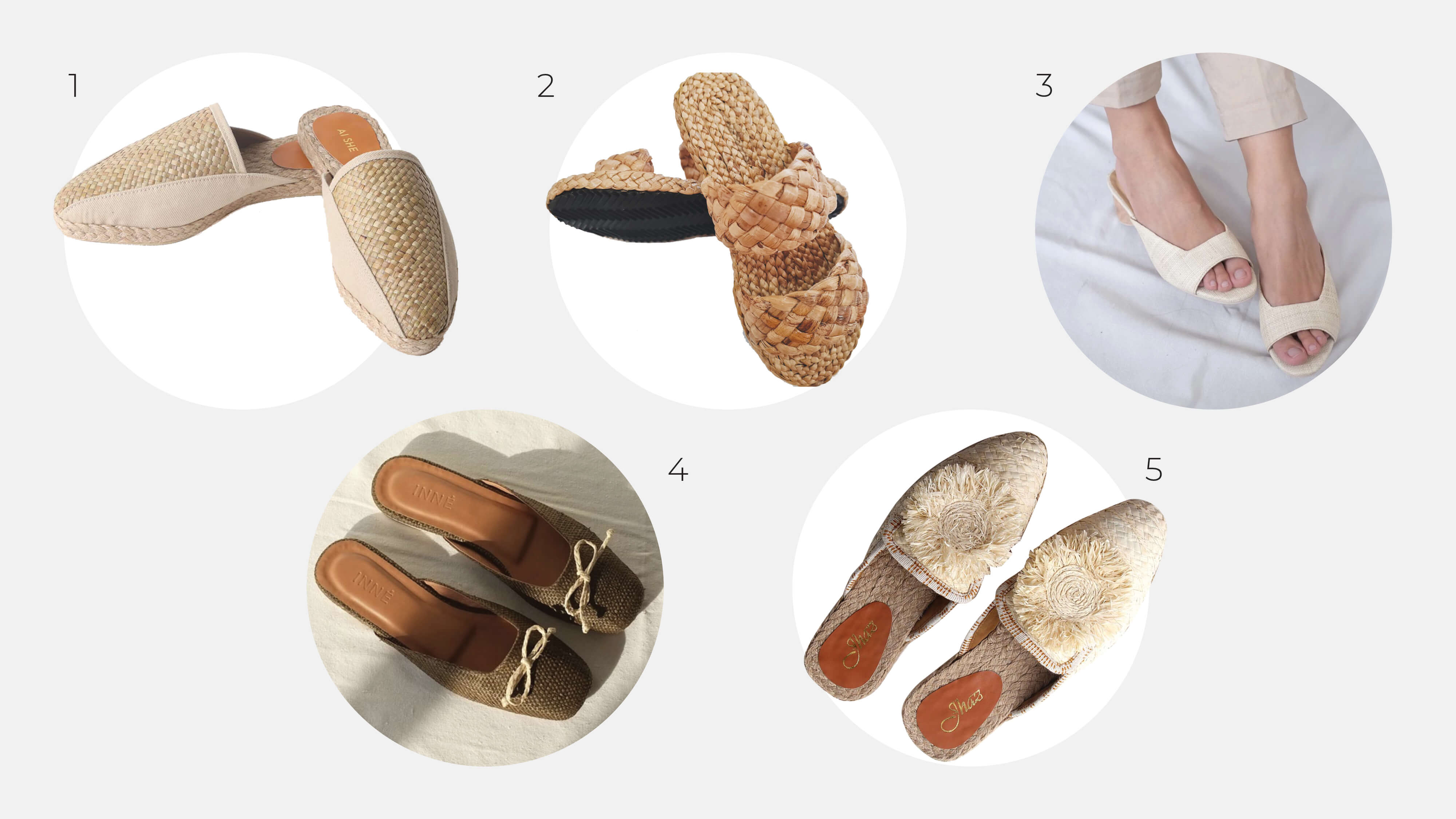 1) Banig Slip-on, AISHE FASHION. Casual with character: slip-ons made of abaca banig and synthetic leather. 2) Adhara, NAKEDTOES.MNL. Handmade sandals made of a water hyacinth weave and a sole made from recycled tires. 3) REGINA Raffia Heel, INNE STUDIOS. Another pair inspired by the traditional bakya, this time made of handwoven raffia fiber; it also comes with a cylindrical wooden heel. 4) MILA Raffia Mule, INNE STUDIOS. A mesh of beautiful details: a handwoven raffia body with a braided raffia ribbon for a feminine touch and a refined square-toe silhouette. 5) Jute Handmade (Jhaz - 17), JHAZ. Everyday footwear made of raffia and jute.
BRIGHT STRIDES
Footwear designers inject a little color and action in these quirky pairs. From gym-to-the-streets sporty sandals to glamorous, Japanese-inspired slippers, allow these pairs to take you the extra mile in style.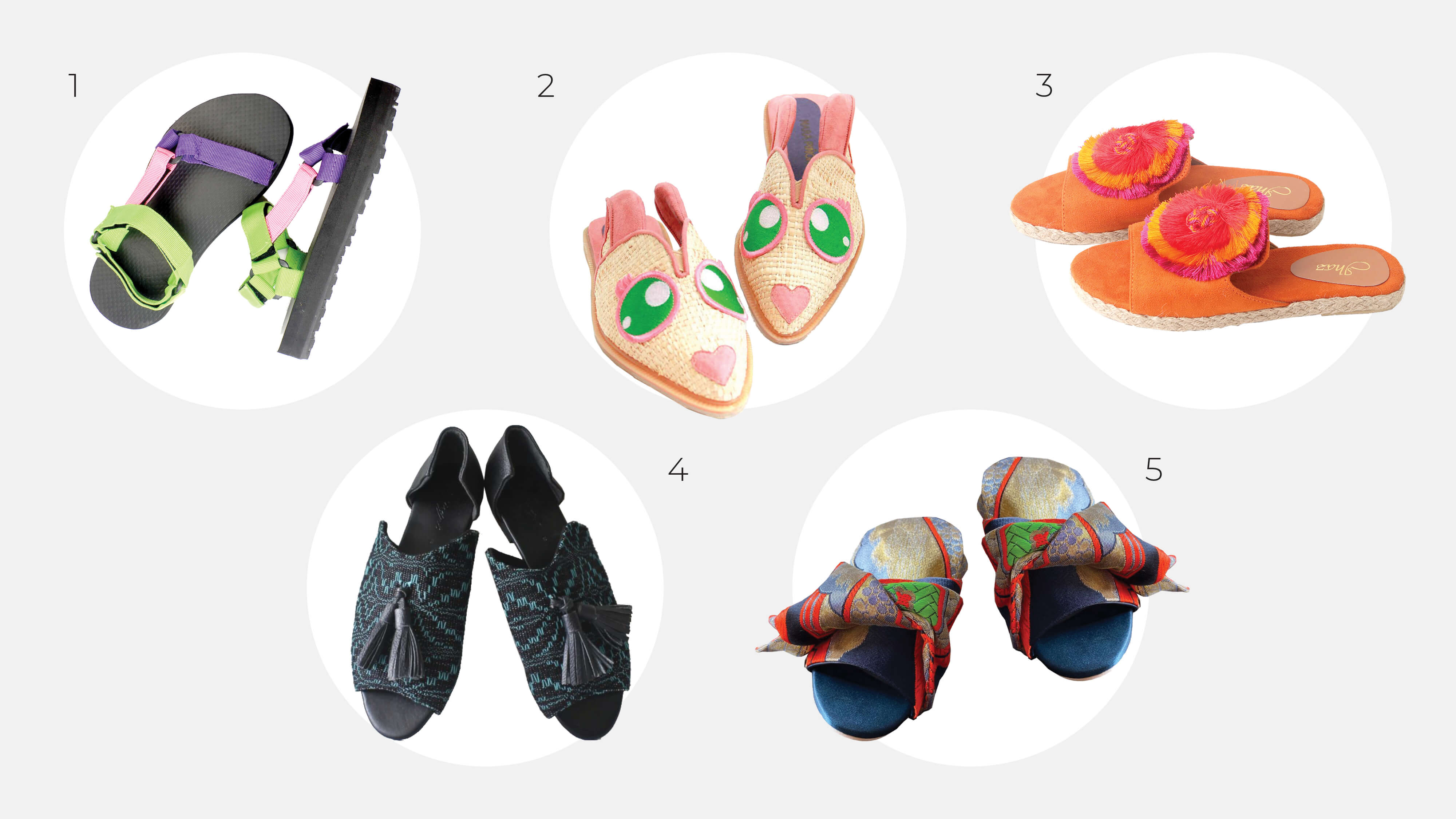 1) 12mm Sporty Sandals in Tri-color (Green), RAMIR. Sporty rubber sandals with colorful straps. 2) TARSIMOJI, MARA PIÑON. A quirky pair made of raffia abaca, in a design inspired by the beloved Philippine tarsiers. 3) Jute Handmade (Jhaz - 29), JHAZ. Party-ready mules in handmade jute. 4) Joey Flats, STRIDE COLLECTIVE. Comfy flats featuring Buhinon weaves made from recycled collar thread and cotton, with a leather tassel accent. 5) Oriental Black Obi Ribbon Sandal, EDYA1929. Chic sandals made from vintage kimono fabric.